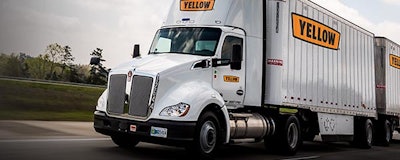 Trucking news and briefs for Monday, Sept. 19, 2022:
Yellow president joins LTL tech BOD
Yellow Corporation President and Chief Operating Officer Darrel Harris has been appointed to the board of directors for SMC³, a provider of LTL transportation pricing data and technology.
"We are thrilled to have Darrel join our board of directors," said SMC³ President and CEO Andrew Slusher. "Beyond his extensive less-than-truckload expertise that will assist us in continuing to evolve our technology solutions, Darrel has a passion for talent development and creating strategies and plans that will deliver unrivaled technology solutions and educational events that move the industry forward."
Prior to being named President and COO of Yellow Corporation, Harris held senior leadership positions at Xpress Global Systems (XGSI), CRST International, and Vitran Logistics. Harris also spent more than a decade with FedEx Freight, overseeing district operations and regional and inside sales. His transportation career began at American Freightways, where he started his career as a dock worker in Kansas City, Kansas.
XPO makes leadership appointments for its RXO spin-off
XPO Logistics has named Jared Weisfeld chief strategy officer of RXO, the planned spin-off of XPO's brokered transportation platform. He will be responsible for RXO's strategy and analysis of growth opportunities when the spin-off is complete, and will oversee RXO's engagement with the investment community.
Additionally, Jay Silberkleit has been appointed XPO chief information officer. Silberkleit will succeed Mario Harik, XPO's current CIO and president, less-than-truckload (LTL) – North America. Harik will become chief executive officer of XPO once the planned spin-off is complete.
TCA announces agenda for Bridging Border Barriers Event
The Truckload Carriers Association is holding its annual Bridging Border Barriers event Nov. 17 at the Mississauga Grand Banquet & Event Center in Mississauga, Ontario to discuss current and potential cross-border issues that are facing the truckload industry. More information can be found here.