Trucking news and briefs for Thursday, March 2, 2023:
ATRI seeks operational cost data from fleets
The American Transportation Research Institute has issued a request for motor carriers to participate in its annual update to its Operational Costs of Trucking report.
ATRI's annual Operational Costs of Trucking is one of the most used and comprehensive benchmarking tools in the trucking industry. ATRI confidentially collects costs and operational data directly from trucking fleets and owner-operators, and its analysis reveals key trends for fleets of each sector, size, and region.
The fleet metrics requested by ATRI include driver pay, fuel costs, insurance premiums, and equipment lease or purchase payments. Carriers and owner-operators are asked to provide full-year 2022 cost per mile and/or cost per hour data through an easy-to-use online data entry form or email submission. By carrier request, this year's report includes valuable new efficiency metrics, such as miles between breakdowns.
Participating motor carriers will once again receive a customized report that compares their fleet's costs and operations to peer carriers of the same sector and size, as well as an advance copy of the full report.
For-hire motor carriers are encouraged to provide operational cost data to ATRI by Friday, April 28. ATRI's data collection form is available online here. All confidential information is protected, and it is published only in anonymized, aggregate form.
Old Dominion appoints new vice presidents
Old Dominion Freight Line's (
CCJ
Top 250
, No.10) Board of Directors has elected Greg Plemmons, who currently serves as Senior Vice President – Sales, to succeed Marty Freeman as the company's Executive Vice President and Chief Operating Officer and Steve Hartsell, who currently serves as Vice President – Field Sales, to succeed Plemmons as the Company's Senior Vice President – Sales. Freeman will succeed Greg Gantt as the Company's President and Chief Executive Officer effective July 1, 2023.
"I have worked closely with both Greg and Steve for many years and truly value their operational and sales expertise," Freeman said. "Old Dominion is fortunate to have such talented leaders who have the experience and vision to continuing driving us forward."
XPO named Mode Global's LTL Carrier of the Year
XPO (CCJ Top 250, No. 7) has been named National LTL Carrier of the Year by Mode Global, one of the largest 3PL transportation platforms in North America.
XPO and Mode have worked together for more than a decade.
"2022 was an amazing year of growth with XPO," said Chase Smith, vice president, carrier services for Mode. "Their commitment to being an industry-leading LTL provider supports our employees and agents in ensuring high customer satisfaction. We deeply value our partnership with XPO and anticipate continued success in 2023."
The Mode carrier awards are based on specific performance criteria, such as service quality, technological capabilities, customer service excellence, volume and revenue growth, as well as collaboration and communication. XPO was awarded National LTL Carrier of the Year for being exceptional in its approach, delivery and support.
"This award is a testament to our ability to deliver high-quality results across our LTL network, due in large part to the unwavering commitment of our employees," said Mario Harik, chief executive officer of XPO. "We thank Mode for recognizing our strong record of customer service and collaboration."
New fuel-efficient, CARB-compliant Carrier Transicold reefer unit now available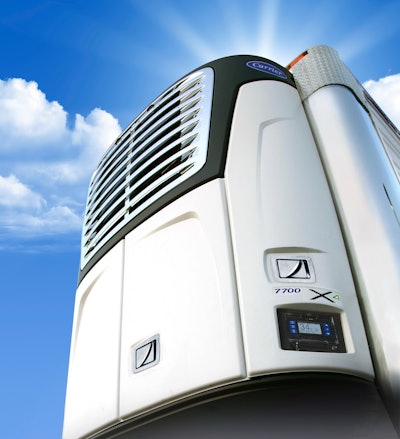 Boasting high refrigeration capacities, demonstrated fuel savings of 20 to 25% and reduced emissions for greater sustainability and regulatory compliance, Carrier Transicold's new X4 7700 trailer refrigeration unit is now available through the company's North America dealer network.
"In full production at our world-class manufacturing facility in Athens, Georgia, the new premium performance X4 7700 single-temperature unit builds on the X4 platform's decade-long reputation for high capacity and rugged, dependable service," said Bill Maddox, Senior Manager of Product Management, Truck Trailer Americas, Carrier Transicold. "Continuing the tradition of reliable design and simply smarter engineering, the X4 7700 unit offers a 96% reduction in particulate emissions and double-digit gains in fuel efficiency compared to standard X4 models."
The new unit employs an advanced version of the smart engine used throughout Carrier Transicold's existing trailer platforms. Benefits of the new unit include lifetime compliance with the California Air Resources Board's stricter rules for reefer units; better fuel economy compared to standard X4 units; greater sustainability with more eco-friendly refrigerant; and lighter weight.
All X4 7700 units are equipped with Carrier Transicold's Lynx Fleet telematics offering for remote monitoring of temperatures, location, movement and system operating performance. To help maintain the charge of the battery supporting the unit and its telematics system, Carrier Transicold now also offers its TRU-Mount solar panel as a factory-installed option.