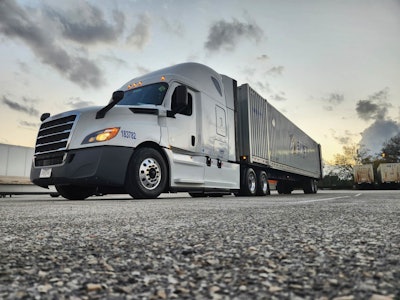 Swift Transportation
Knight-Swift Transportation (CCJ Top 250, No. 5) on Tuesday announced a multi-year deal with Canadian Pacific Kansas City (CPKC) to provide truckload intermodal transportation service on CPKC's new single-line north-south corridor connecting the U.S., Mexico and Canada.
The move unlocks CPKC's broad network of rail lines, terminals, and cross-border efficiency and expertise to Knight-Swift's established Mexico customer base for better service reliability and competitiveness, and CPKC Executive Vice-President and Chief Marketing Officer John Brooks said this agreement "creates compelling new transportation solutions for Knight-Swift's current and future customers looking for optionality and increased capacity in their supply chains," adding as Knight-Swift transitions its Mexico-U.S. traffic to CPKC starting in mid-May, his company will focus on growth between Chicago, Texas and Mexico markets.
[Related: New rail behemoth sets sights on trucking]
Knight-Swift is the second mega fleet to align with CPKC, following Schneider National (No. 9) who last week became a strategic intermodal carrier on CPKC's north-south flagship intermodal service between Chicago and all major points in Mexico. Schneider, too, will begin moving certain freight on CPKC's railway in mid-May.
CPKC's International Railroad Bridge over the Rio Grande River at the U.S.-Mexico border at Laredo, Texas, offers a reliable alternative to congested highway ports of entry. A second span to expand the bridge's capacity and further increase the efficiency of cross-border train movements is currently under construction and expected to be completed by the end of 2024.
[Related: Knight-Swift acquiring U.S. Xpress for more than $800 million]
"Our agreement with the CPKC will provide another differentiated solution for our customers and their over-arching supply chains," said Adam Miller, Knight-Swift Transportation CFO and Swift President. "The Knight-Swift team is looking forward to engaging with the CPKC railroad on service offerings, customer solution design and demand planning to help facilitate growth on the first single-line railroad connecting Mexico, the United States, and Canada. Our Transmex team and growing LTL offering will also benefit from the newly created railroad and will allow us to continue supporting our customers in new and different ways by providing thoughtful solutions with a solid underlying service product."
Environmental considerations
The merger application for Canada Pacific (CP) and Kansas City Southern (KC) rail, green-lit by the Surface Transportation Board (STB) last month, promises to take 64,000 long-haul truck shipments off the road each year and avoid more than 1.6 million tons of greenhouse gas (GHG) emissions due to the expected improved operational efficiency of CPKC versus current operations, and another 300,000 tons of GHG emissions with the diversion of 64,000 trucks to rail for a total reduction of 1.9 million tons of GHG emissions over the next five years. Diverting 64,000 long-haul truck shipments to rail annually with new CPKC intermodal services will reduce total truck vehicle miles travelled by almost 2 billion miles over the next two decades, saving $750 million in highway maintenance costs.