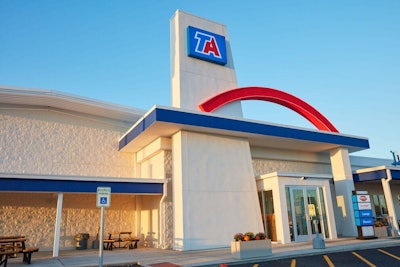 A $1.3 billion acquisition deal between TravelCenters of America and BP Products North America has cleared all major hurdles en route to closing next month.
While the successful completion of the deal never appeared to be in question, a last-minute bid from convenience store operator ARKO Corp. in March inserted a degree of drama. TA rejected ARKO's unsolicited proposal, citing the more favorable terms of BP's proposal – an assertion that ARKO rejected, noting it offered more money per share and despite TA's concerns that it lacked financing, ARKO was in position to consummate a deal for the truck stop operator.
TA confirmed Monday that it requested and received a contractual waiver from BP and engaged with ARKO to give its proposal due diligence, and that its Board of Directors reaffirmed that ARKO's proposal "is neither a superior proposal nor could it reasonably be expected to lead to a superior proposal. The Board reconfirms its recommendation that shareholders vote for TA's pending merger with BP, which, subject to shareholder approval, is scheduled to close on May 15, 2023."
A special meeting of shareholders to approve the pending acquisition of TA by BP is scheduled for May 10 – a balloting process that is expected to be a formality and pass overwhelmingly. Under the terms of the pending transaction, BP will acquire all of the outstanding shares of TA common stock for $86 per share in cash. Should the deal close, this will be the second time BP has owned TA. Standard Oil of Ohio bought TA in 1984 from Ryder, and BP bought Standard Oil in 1987. BP sold TA in 1993.
ARKO had proposed to acquire TravelCenters for $92 per share but in a letter sent Wednesday to ARKO Chairman, President and CEO Arie Kotler, TA's Board of Directors reiterated its stance that ARKO's failure to obtain committed financing was problematic and that "execution risk with ARKO is of paramount concern to the TA Board."
That risk is compounded by a degree of past trauma between TA and ARKO that stems from a deal five years ago that the TA Board was unwilling to overlook.
"Our concern regarding execution risk is augmented by TA's own prior experience with ARKO on another deal. As you may recall, in 2018, in connection with the sale of TA's convenience store division, after the opportunity to conduct due diligence, ARKO made a high bid and then substantially reduced its bid when it was time to commit," the Board wrote. "The Board worries ARKO will do the same here and that, if ARKO is successful in derailing the BP transaction, TA shareholders will lose out on a real deal at a substantial premium to what may be otherwise achievable."
ARKO Corp., is one of the largest convenience store operators in the U.S. with 3,200 locations under various brands. TA in 2018 sold its Minit Mart convenience store business for approximately $330.8 million to EG Group, an operator of more than 1,750 c-stores across 33 states under various names.