Trucking news and briefs for Monday, April 17, 2023:
Linden Bulk Transportation acquired by Boasso Global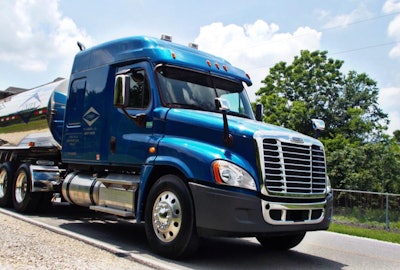 Multimodal logistics company Odyssey Logistics & Technology Corporation has sold its bulk tank truck transport subsidiary, Linden Bulk Transportation, to Boasso Global. The terms of the deal are not disclosed.
Based in Linden, N.J., Linden Bulk operates more than 350 power units, 675 trailers, and 150 ISO container chassis with lift kits. In addition to its New Jersey headquarters, Linden Bulk has facilities in Pennsylvania, Texas and Louisiana.
Odyssey specializes in chemical logistics, and the company said its divestiture of Linden Bulk aligns with its strategy of providing neutral-to-transport solutions, allowing the company to utilize the full universe of carriers for the benefit of its customers. Odyssey said it will continue to expand its multimodal service offerings that optimize logistics operations across industries.
Boasso Global is a provider of ISO tank container depot, maintenance, cleaning and transportation services and earlier this month merged with Quala, a provider of tank cleaning and maintenance services.
"Boasso Global is an excellent home for Linden's employees and customers," said Glenn Riggs, Odyssey Logistics & Technology chief strategy officer. "Moving forward, Odyssey will continue to focus on growing our adaptive multimodal logistics offerings on a global scale through customer-centric relationships, an expansive multimodal freight network and specialized modern technology."
Aurora opens terminal for autonomous trucks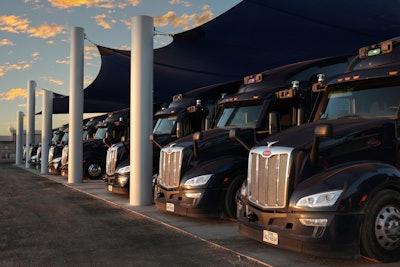 Aurora Innovation has launched its first commercial-ready terminal for autonomous trucks in South Dallas. The terminal is designed with features critical for driverless operations – like sensor calibration ranges, high-speed data offload, and launching and landing zones, along with traditional maintenance services, fueling and scales – and will serve as a blueprint for Aurora's future network of terminals.
Located in Palmer, Texas, the terminal deploys autonomous trucks pulling freight for Aurora's pilot customers, including FedEx, Schneider, and Uber Freight, between Dallas and Houston. Aurora is currently hauling 50 customer loads a week across its two commercial routes and expects to increase its pilot hauls to 100 loads per week by the end of 2023.
As the company prepares for the commercial launch of Aurora Horizon, its autonomous trucking service, it will leverage a network of terminals to house, maintain, prepare, inspect and deploy autonomous trucks between destinations.
Peterbilt expands its tech training partnerships
Peterbilt has partnered with Lincoln Educational Services Corporation (Lincoln Tech), one of America's most established technical schools, to offer the Peterbilt Technician Institute (PTI) program at its Nashville, Tennessee, location. this is the third site nationwide for PTI training, following locations in Chicago and the Dallas-Fort Worth area.
Paccar Vice President and Peterbilt General Manager Jason Skoog said Peterbilt's PTI program was developed specifically to prepare the next generation of service technicians, adding this partnership ensures students will receive best-in-class training, obtain valuable certifications and be placed in technician positions at Peterbilt dealerships earning a competitive salary and the opportunity to build a meaningful, long-term career.
"Establishing PTI in Nashville opens a new geographical territory where we can develop highly skilled technicians to support Peterbilt customers," says Casey Spadafina, Peterbilt's Technician Program Manager for North America.
The PTI curriculum provides graduates of Lincoln Tech's Auto, Diesel and Heavy Equipment Technology programs advanced training on systems ranging from fuel and electrical to HVAC, suspensions and brakes. Students are exposed to a three-part learning approach that includes hands-on training to build experience and working knowledge of Peterbilt trucks, a classroom session approach to build teamwork and
communication skills and a web-based skill-building activities approach to incorporate technology into learning.
Upon completion of the advanced diesel program, students will have earned nine factory-trained technician credentials, which can help fast-track them to careers at more than 420 Peterbilt dealerships across the US and Canada. The program is scheduled to begin this summer.