Trucking news and briefs for Thursday, Aug. 31, 2023:
Cargo theft expected to increase over holiday weekend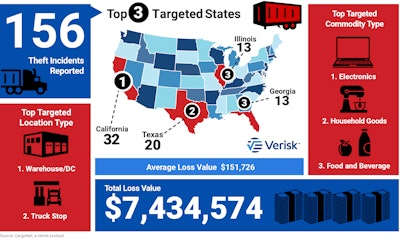 CargoNet is advising the trucking industry that an unprecedented crime wave affecting over-the-road freight transportation in the continental United States is showing no signs of slowing down.
Last week, theft reports to CargoNet reached their second-highest levels of the year. All supply chain professionals should be concerned with theft risk this upcoming Labor Day holiday, the firm noted.
In order to mitigate risk, CargoNet examined theft trends around the previous five Labor Day holidays. In total, CargoNet recorded 156 events with an average cargo value of $151,726 per event. Theft was highest in 2022, when CargoNet recorded 44 events. In previous years, cargo thieves preferred to steal valuable shipments of televisions, computers, and major appliances.
Thefts were most common near major supply chain hubs in Southern California, Dallas-Fort Worth, Chicago, Memphis and Atlanta. There were no fictitious pickups reported in this analysis period, but these kinds of thefts are the main threat professionals should look out for this year.
CargoNet is warning of increased targeting of shipments of building materials such as shingles, lumber and power tools in response to extreme weather events in the Southeast.
Shipment misdirection schemes, a kind of fictitious pickup, remain the most pervasive threat to domestic, over-the-road freight transportation this upcoming holiday. CargoNet has recorded over 600 shipment misdirection attacks or attempts since November 2022.
In these schemes, attackers impersonate a motor carrier to gain authorization to transport a shipment and then hire a motor carrier to deliver the shipment to a location they have access to so they can steal the shipment. Attackers often impersonate two or three different companies to disguise their identities and deceive their victims.
These attacks target a wide variety of goods from every state in the continental United States, but attackers have shown a preference for stealing truckload shipments of solar panels, energy drinks, alcoholic beverages, motor oil, and consumer electronics, CargoNet said.
Attacks can be mitigated with enhanced security protocols. Shippers should consider recording information about the motor carrier, driver, and vehicles used to pick up a shipment for investigative follow-up in case a shipment is stolen. Logistics brokers should build sophisticated compliance programs to detect motor carrier identity theft, especially if a commodity has been frequently targeted.
FedEx increasing shipping rates in 2024
FedEx Freight, FedEx Express and FedEx Ground, subsidiaries of FedEx Corp. (CCJ Top 250, No. 1), will adjust their shipping rates on Jan. 1, 2024.
FedEx Freight shipping rates will increase by an average of 5.9%-6.9%, dependent on the customer's transportation rate scale. This change applies to shipments within the U.S. (including Alaska, Hawaii, Puerto Rico, and the U.S. Virgin Islands) and between the contiguous U.S. and Canada.
FedEx Express shipping rates will increase by an average of 5.9% for U.S. domestic, U.S. export, and U.S. import services.
FedEx Ground and FedEx Home Delivery shipping rates will increase by an average of 5.9%. FedEx Ground Economy shipping rates will also increase.
The average annual rate increases are one percentage point lower than last year's general rate increase. The price adjustments reflect incremental costs associated with the current operating environment, while enabling FedEx to continue investing in service enhancement, fleet maintenance, technology innovations, and other areas to serve customers more effectively and efficiently, the company said.
Also taking effect Jan. 1 will be surcharges at FedEx Express and FedEx Ground. Customs clearance fees on imports will be increased, and FedEx will assess the Additional Handling Surcharge and Oversize Charge per eligible package for international multi-piece shipments, instead of per shipment. The affected surcharges are the Additional Handling Surcharge (Dimension, Weight, Packaging, Freight, and Non-Stackable) and the Oversize Charge.
Details of all changes to rates, surcharges, and fees will be available here on Sept. 7.
FedEx has also announced its demand surcharges, formerly known as "peak" surcharges, for the 2023 holiday shipping season.
Georgia tech school gets truck driver training funding
The U.S. Department of Commerce's Economic Development Administration (EDA) is awarding a $742,180 grant to Wiregrass Georgia Technical College in Fitzgerald, Georgia, to enhance its truck driver training program and support job creation in the region.
This grant will bolster the aims of the Biden Administration's Trucking Action Plan to grow and strengthen America's trucking workforce, EDA said.
This investment will construct a concrete practice pad and access road to support truck driver training workforce development. This EDA grant will be matched with $318,078 in local funds, is expected to create or retain 235 jobs, and generate $40 million in private investment, according to grantee estimates.
"The Economic Development Administration is honored to support the enhancement of Wiregrass Georgia Technical College's Commercial Truck Driving Training program," said Assistant Secretary of Commerce for Economic Development Alejandra Y. Castillo. "The new facilities will increase enrollment in this critical workforce training program, leading to good-paying, high-quality jobs that support the nation's supply chain resilience."