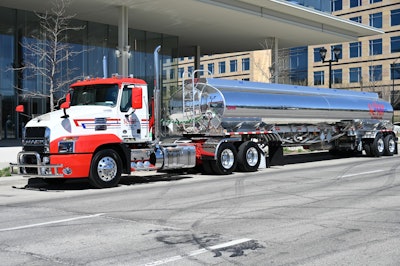 Des Moines, Iowa-based petroleum hauler Solar Transport has been acquired by independent fuel marketer Maverik, the company announced Tuesday. Terms of the deal were not disclosed.
Solar Transport serves more than 35 customers, including some of the largest convenience store chains in the U.S., from over 20 terminals, with regional management offices in Iowa, Colorado and Missouri.
In a separate deal announced Tuesday involving 125-truck Solar Transport parent Krause Group, Maverik and FJ Management also acquired Kum & Go, a fourth-generation, family-owned convenience store chain. The closing of this transaction creates a convenience store network across the Midwest and Rocky Mountain regions, growing Maverik's footprint to over 800 stores in 20 states with approximately 14,000 team members.
"Together over four generations – from my grandfather Tony and my dad Bill to me and my son Tanner – we built these businesses over 64 years through shared vision, collective entrepreneurship, and teamwork," said Krause Group Founder & CEO Kyle Krause. "I'm also incredibly thankful for our associates and their unique contributions that allowed Kum & Go and Solar Transport to reach this level of success. We've run the businesses and differentiated ourselves by putting people first and making days better in all we do. Over the last six years, Tanner's leadership was at the core of these efforts, resulting in a tremendous impact on Kum & Go. I'm confident Kum & Go and Solar Transport are set up for future success with Maverik. As we start the next chapter at Krause Group, we will nurture our family of brands and create more opportunities to do good in the world."
Maverik CEO Chuck Maggelet will lead the newly combined organization and Tanner Krause will transition out of the company.
At the deal's closing, in appreciation of Maverik's Des Moines-based team and the local community, Maverik will donate $50,000 to The Des Moines Public Schools Foundation. As a longstanding supporter of helping fight hunger in its local communities, Maverik's donation will provide fresh fruits, vegetables, and toiletries at Des Moines Public Schools' 53 food pantries in schools across the district.
"We are excited to welcome Kum & Go and Solar Transport team members to Maverik," said Maggelet, also Chief Adventure Guide of Maverik. "Together, we'll offer our customers an adventurous and differentiated convenience store experience across fuel, foodservice, and inside-store offerings. We look forward to using our combined resources to grow our business and further elevate our product offerings to provide the best service to our customers."