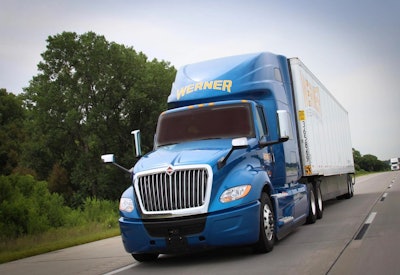 Werner Enterprises (CCJ Top 250, No. 11) announced Thursday it has signed a definitive agreement and closed on the acquisition of an 80% equity ownership stake in Pennsylvania-based regional hauler ECM Transport Group for $142.4 million. Werner also retains an exclusive option to buy the remaining 20% of the company after five years.
With 2020 revenues of $108 million, ECM consists of ECM Transport and Motor Carrier Services of Pennsylvania, regional truckload carriers that operate nearly 500 trucks and 2,000 trailers in their network of eight terminals and 18 drop yard facilities.
"The addition of ECM's skilled drivers, non-driver associates and terminal network strengthens our portfolio by adding short-haul expertise in a segment in which consumer demand and supply chain needs are growing," said Derek Leathers, Werner Chairman, President and CEO. "This transaction delivers on our '5 Ts + S' strategy and will position us for further growth as we capitalize on positive market dynamics for the remainder of 2021 and beyond. We expect this transaction to be accretive in year one and anticipate cost synergies through integrated management of our combined fleet."
Werner says the acquisition will expand its footprint in the strategic Mid-Atlantic, Ohio and Northeast regions and add high-quality talent, while increasing its fleet size by more than 6%.
Werner financed the transaction through a combination of cash on hand, existing credit facilities and a new $100 million fixed-rate term loan maturing in May 2024. Closing for the acquisition was completed July 1. The remaining 20% ownership interest in ECM Transport Group will be retained by Ed Meier, founder and president of the company.