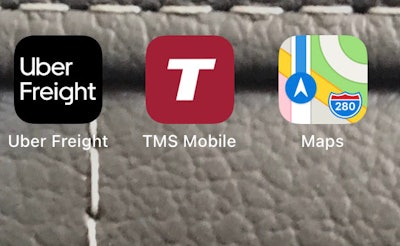 Uber Freight is set to acquire logistics technology firm Transplace for approximately $2.25 billion.
The acquisition, pending approvals and closing, will consist of up to $750 million in common stock of Uber Freight's parent company Uber Technologies, and the remainder in cash. Uber Freight will acquire Transplace from TPG Capital, the private equity platform of alternative asset firm TPG.
"This is a significant step forward, not just for Uber Freight but for the entire logistics ecosystem," said Lior Ron, Head of Uber Freight. "This is an opportunity to bring together complementary best-in-class technology solutions and operational excellence from two premier companies to create an industry-first shipper-to-carrier platform that will transform shippers' entire supply chains, delivering operational resilience and reducing costs at a time when it matters most."
Ron told CCJ Thursday that Uber Freight has always been carrier-first in how it operates, but talking just with carriers doesn't help solve some of the industry's bigger issues, such as detention, payment issues and more. "At the end of the day, there's a shipper behind it," he said. "If we're just a broker, we can advocate for the carrier all day long, but if we aren't touching the other side and closing that loop, our impact would be limited."
"Our expectation is that shippers will see greater efficiency and transparency and carriers will benefit from the scale to drive improved operating ratios." Transplace CEO Frank McGuigan
He added that, following the closing of the acquisition, combining Uber Freight's connections with carriers and Transplace's connections with shippers will help bridge the gap between carriers and shippers using data to, "basically better serve carriers with being closer to shippers."
Transplace CEO Frank McGuigan noted the acquisition combines "the world's premier shipper network platform with one of the industry's most innovative supply platforms, to the benefit of all stakeholders," he said. "Our expectation is that shippers will see greater efficiency and transparency and carriers will benefit from the scale to drive improved operating ratios. All in all, we expect to significantly reduce shipper and carrier empty miles to the benefit of highway and road infrastructures and the environment."
The companies said the buyout will give carriers the ability to work directly with shippers and access high-quality freight across multiple service lines, including intermodal, cross-border and LTL. Uber Freight's brokerage will continue to operate independently from Transplace's managed transportation services.
Following closing, Ron said there will be more opportunities for carriers using Uber Freight to access even more freight, as Transplace operates in some specialty industries, such as intermodal, petrol, chemicals and more.
"The important caveat is that choice will always be with the shipper," Ron said. "The shipper will decide – and Transplace is the trusted partner of the shipper – if that load is best in position to go to Uber Freight, or go to another partner, another carrier, another competitor of Uber Freight for Transplace, we'll stay hands-off of that decision because at the end of the day, the choice is of the shipper."
Transplace was acquired by TPG Capital in 2017. Over the course of the partnership, Transplace has invested heavily in technology and other growth initiatives.
The combination of Uber Freight and Transplace will combine Uber Freight's network of digitally-enabled carriers with Transplace's trusted shipper technology and operational solutions. The companies say the acquisition will result in a fully scaled logistics platform built to meet both shippers and carriers where they are, no matter the size of their business or their transportation needs.
Uber Freight said the transaction will allow it "to serve substantially more customers at all levels of the freight industry and will expand its presence into Mexico… through new capabilities in intermodal and customs brokerage."