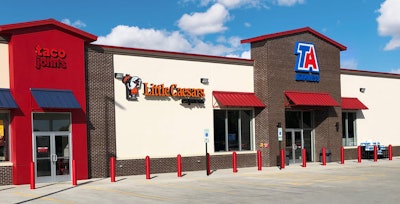 ARKO Corp., one of the largest convenience store operators in the U.S. with 3,200 locations under various brands, on Monday issued a letter urging the Travel Centers of America's Board of Directors to consider ARKO's proposal to acquire TravelCenters – a bid the TA braintrust had already rejected.
BP Products North America agreed in February to a $1.3 billion deal to acquire TravelCenters of America Inc., the operator and franchisor of the TA, Petro Stopping Centers and TA Express travel center brands. The acquisition is valued at $86 per share. About a month later, ARKO proposed to acquire TravelCenters for $92 per share.
In a statement released by the company Tuesday morning, TA said following a comprehensive review with its financial and legal advisors, the TA Board unanimously concluded that ARKO's proposal did not constitute a superior proposal and could not reasonably be expected to lead to a superior proposal. "Among the reasons the Board determined that ARKO's proposal was neither a superior proposal nor likely to lead to a superior proposal was the high level of execution risk resulting from ARKO's failure to obtain committed financing and that ARKO's sub-investment grade credit rating was not attractive to Service Properties Trust (SVC), the landlord of most of TA's properties," the statement read.
ARKO contends that it has completed 23 transactions since 2013, and one pending and expected to close soon, and in all that time "ARKO has never required any financing conditions and has closed every acquisition it has put under contract. ARKO's proposal to TravelCenters offers no financing-related conditions."
The BP transaction has already been unanimously approved by the TA Board of Directors, but in the process of selecting an acquisition partner TA said it, along with its advisors, engaged with multiple potential buyers who the TA Board believed could "close with cash on hand or otherwise had committed financing." In addition, in order to meet SVC's minimum credit criteria for the new tenant and guarantor of the leases between TA and SVC, "only parties that had a minimum investment grade credit rating of BBB/Baa2 were invited into the process."
BP is financing the transaction with cash on hand and has an investment grade credit rating of A3/A-, TA said. ARKO requires third party capital to close any potential acquisition and its sub-investment credit rating of B+/B2 is several notches below BBB/Baa2.
Subject to shareholder and regulatory approval, TA and BP are targeting closing the acquisition by mid-year.