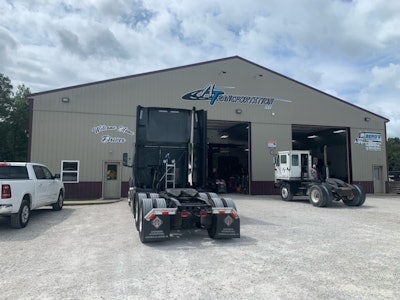 OnLine Transport (CCJ Top 250, No. 217) has acquired Ferdinand, Indiana-based A/T Transportation and Automated Logistics, the company's second acquisition this year and its sixth since 2019. Terms of the deal were not announced.
OnLine Transport Co-President Bob Farrell noted that the combination of the two carriers unites two award-winning fleets and "is going to create one of the most highly-skilled truckload companies on the road today." A/T Transportation is the Carrier of the Year with MasterBrand Cabinets and OnLine Transport was recognized as the 2022 Toyota Carrier of the Year.
A/T Transportation adds 64 trucks to the OnLine stable and OnLine Transport CEO Kalvin Cook noted the company is "thrilled to welcome the highly-skilled professional drivers and non-driver associates of A/T Transportation into the Online Transport family."
Its sixth and most recent acquisition, Farrell said, is in line with the Indianapolis-based OnLine's goal "to become one of the largest asset-based logistics providers headquartered in Indiana," adding his Indianapolis-based company continues to pursue strategic acquisitions with other dry and refrigerated freight carriers and logistics providers.
"The addition of A/T Transportation business is highly synergistic within our existing network, adding capacity, additional logistical services, as well as valuable new customer relationships." said OnLine Transport Co-President Nick Pavilonis.
This is at least the 15th deal made this year by a CCJ Top 250 fleet.
Online Transport in June acquired El Paso, Texas, carrier Mustang Express and Ormsby Trucking, gaining access to Mustang Express' El Paso terminal and unlocking opportunities to haul freight from the Mexican border to the Midwest. Previously, OnLine has picked up Pleasant Trucking based in Connellsville, Pennsylvania, Shoun Trucking based in Bristol, Tennessee, and McCammon Trucking based in Hartford City, Indiana.