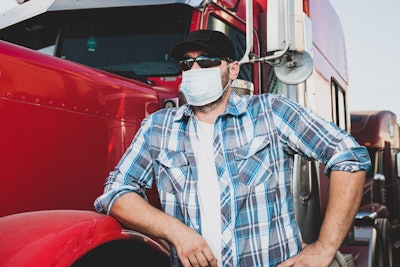 Growing concerns over COVID-19 infection rates may spell trouble for some businesses while providing opportunities for others, particularly trucking, as the Center for Disease Control and Prevention announced a guidance change on Tuesday calling for mask-wearing indoors regardless of vaccination status in COVID hot spots.
In a phone conference with reporters this afternoon, CDC Director Rochelle Walensky said that "new science related to the Delta variant" required the agency to change its mask-wearing guidance.
"In areas with substantial and high transmission, CDC recommends fully vaccinated people wear masks in public, indoor settings to help prevent the spread of the Delta variant, and protect others," Walensky said.
[Related: Mandated vaccines in trucking could lead to employee, recruitment losses]
Though somewhat rare, breakthrough cases occur where vaccinated people are catching the Delta variant and passing it on to others, Walensky added. Mask-wearing is being recommended by the CDC to help prevent that.
COVID cases have been on the rise in 90% of U.S. jurisdictions, according to the CDC, with the Delta variant now the most prevalent strain in the U.S.
The COVID resurgence, coupled with these breakthrough cases, has led to mandatory mask-wearing in some areas regardless of vaccination status, including St. Louis, Mo., Los Angeles County, Calif., Philadelphia and Savannah, Ga.
Tightening COVID restrictions amid growing infection rates may mean more business for carriers while other industries more vulnerable to the mutating disease may find any recent business recovery short-lived.
"As to trucking related impact of the COVID resurgence, one of the keys to this cycle has been the diversion of consumer spending from services (sports, converts, restaurants, etc.) to spending on goods," said ACT President and Senior Analyst Kenny Vieth. "To the extent that consumers pulled-back from social activities due to the rise in the pandemic, what the past year has shown is that we will still spend our money. So, if there are fewer concert and sporting event tickets sold and fewer hotel stays, the implication would be that there will be more freight to haul."
[Related: Walmart closing stores for COVID cleansing]
FTR Transportation Intelligence Vice President Avery Vise said that the virus is proving more problematic in areas where vaccination rates are low.
"Honestly, we are not experts in COVID dynamics, but it does appear that the variant is a serious issue particularly in states where vaccination rates are low," Vise said. "Those states also appear to be those most resistant to severe restrictions in commerce. Therefore, we would not expect an overall impact resembling the first waves of infections.
"We might see some regional weakness in areas like restaurants, but the unprecedented levels of financial stimulus and pent-up demand should keep volumes strong," Vise continued. "Of course, if it turns out that vaccinations are not effective against the variant, all bets are off."
Despite growing concern with breakthrough cases, Walensky said that currently the majority of hospitalized COVID patients are unvaccinated. Vieth supported that finding.
"With recent COVID data showing nearly all hospitalizations and deaths are occurring amongst the unvaccinated, the message is pretty clear on both vaccine efficacy and what you should be doing if not yet vaccinated," Vieth said.
The CDC's new mask-wearing guidelines for vaccinated individuals comes with controversy since three months ago the CDC had advised that masks need only be worn by the unvaccinated.
"The CDC changing their mind is an unfortunate look, smacking of bureaucratic incompetence and giving the anti-vax crowd more 'told-you-so' ammunition," Vieth said. "Hindsight tends to be closer to 20:20 and clearly, they should have had a vaccination rate threshold for mask guidance. Of course, with case rates falling and vaccinations rising, we were all hopeful a few months back that we could actually beat the COVID."
When it comes to wearing a mask, Vieth said it's still largely a personal choice.
"As with vaccines, masks are ultimately a personal decision: there are no mask police and the CDC can only recommend that people do what is best for the greater good," Vieth said. "Of course, with the vaccination rate hovering at around 50% and virtually 100% of people are not wearing masks (at least in Central Indiana), that means virtually none of the unvaccinated are masking up."