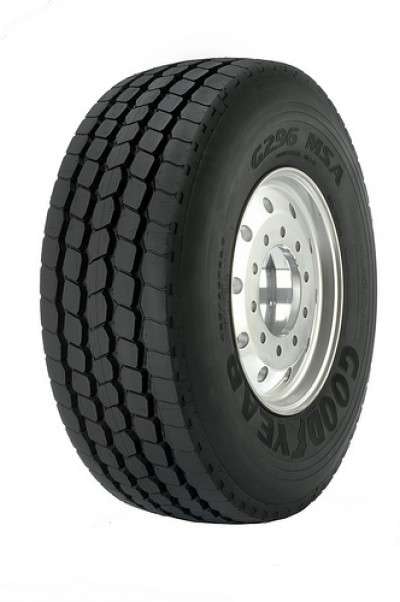 Goodyear's G296 WHA super-single waste haul steer tire joins the company's drive/steer G289 WHA and is available in 425/65R22.5 sizing in load range L at 11,400-pound capacity. The G296 WHA features many of the attributes of the G289 WHA when it comes to toughness and long miles to removal, and both are available with DuraSeal Technology designed to seal up to ¼-inch-diameter punctures in the repairable area of the tread. Featuring a deep 23/32-inch tread depth, the G296 WHA has four wide circumferential grooves to help promote enhanced traction and even wear. Special compounding helps the tire resist chunking and chipping, while sidewall scuff protectors, like those found on the G289 WHA, help ward off constant scrubbing and curbing. Further aiding tire longevity is a four-belt package for added toughness.
The company's G296 MSA super-single mixed-service tire features an optimized footprint for enhanced traction in steer and drive positions, has up to 23 percent more wearable rubber on the tread for enhanced mileage, and helps reduce cuts, chipping and tears through special compounding. Developed for heavy on- and off-road applications – such as mixers, dump trucks, pumpers and other specialty heavy trucks – the G296 MSA is available in three sizes: 385/65R22.5 (load range J), 425/65R22.5 (load range L) and 445/65R22.5 (load range L). The tires offer 23/32-inch tread depth, which is up to 4/32-inch more tread depth than the company's previous super-single mixed-service models while actually being up to 7 percent lighter in weight. An all-steel four-belt package offers added toughness and performance. The tire also is available with Goodyear's DuraSeal Technology in the 425/65R22.5 size.
For more information, go to www.goodyear.com/truck.