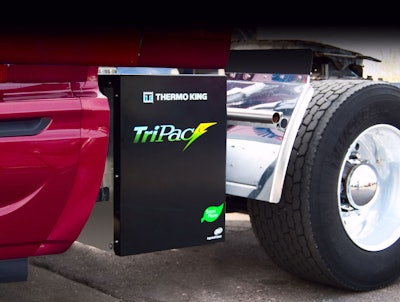 Thermo King Corp. announced that its TriPac electric auxiliary idle reduction and temperature management system has received verification from the U.S. Environmental Protection Agency's SmartWay Verified Technologies program, which recognizes products that reduce emissions, save fuel and deliver other benefits related to environmental sustainability. Thermo King's engine-based auxiliary power unit, the TriPac system, also has been verified by SmartWay.
"Thermo King continues to drive innovation for our customers and the APU marketplace," says Dwayne Cowan, APU manager for Thermo King. "Whether it is the TriPac, an engine-based solution, or TriPac, a nonengine-based solution, Thermo King products represent best-in-class performance."
The TriPac, the first electric APU from Thermo King, is a battery-powered solution designed to maintain comfortable temperature conditions in the truck cab without running an engine.