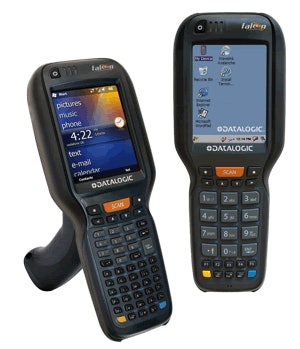 Datalogic Mobile, a provider of rugged and ergonomic mobile computers, announced its new Falcon X3, a PDT available in handheld and pistol grip versions with new features to tackle tough applications in today's supply chain. The Falcon X3 is designed to provide real-time data capture and communication to assure accurate inventories and maximize productivity.
Available with either laser scanner or 2D imager, the Falcon X3 can be configured to match most needs. Both laser and imager come with Datalogic's proprietary Green Spot good read feedback to facilitate accuracy. Packaged with Windows CE or Windows Mobile 6.5, the Falcon X3 integrates seamlessly with WMS and ERP management systems, while its Summit Wi-Fi 802.11 a/b/g radio provides maximized coverage due to a diversity antenna system.
"Our new Falcon X3 also delivers incredible performance with Power architecture," says Bill Parnell, chief executive officer of Datalogic Mobile. "Power leverages a dual processor architecture and proprietary features that make the new Falcon X3 a clear winner. Datalogic Mobile is known for blending performance and ergonomics – features our users want and the new Falcon X3 delivers."
The pistol grip version offers an arched handle and ergonomic trigger to make high-frequency scanning operations more comfortable throughout the day. The numeric and alphanumeric keyboards are set up placing high-use keys at the operator's fingertips, with a universal numeric phone key layout. The QVGA display and backlit keyboard are designed to make it easier to work in dark indoor or extremely bright outdoor environments. The Falcon X3 is built rugged, while IP64 level sealing helps protect the unit from dust and liquids.
Datalogic Mobile's software and service tools complete the new Falcon X3 with preloaded and prelicensed Wavelink Avalanche and Terminal Emulation to help make the mobile computer ready to go "out of the box" for rapid deployment and centralized management. Other software tools included are the Datalogic Desktop, Configuration and Firmware Utilities to customize and update device configuration. Datalogic Mobile also offers a suite of maintenance service programs to protect the Falcon X3 investment.