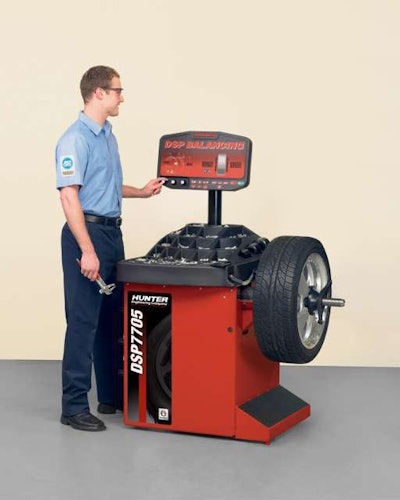 Targeting the quality-conscious shop with a lower service volume, Hunter's DSP7705 is a rugged economy wheel balancer with features designed to ease service and provide fast, accurate results. The DSP7705 is engineered to handle a wide range of wheel designs up to 44 inches in diameter and 20 inches in width, with a motor that can spin assembles up to 150 pounds repeatedly without overheating.
The DSP7705 is designed to be simple to operate: The intuitive display uses easy-to-understand wheel graphics and simple controls to help operators enter wheel dimensions, determine the best weight placement and navigate through balancing procedures. The Dataset arm assists with automatic direct measurement of wheel dimensions when using tape weights, eliminating manual data entry errors.
The DSP7705 also supports a series of features to help speed service and increase profitability. Servo Stop control is designed to position wheels automatically at the top-dead-center weight location, saving time and ensuring accuracy. Split Spoke mode is designed to locate the best out-of-sight position automatically for adhesive weight placement on custom wheels, and Split Weight mode is designed to split the weight reading into two weights and relocate them on the wheel to help reduce weight inventories and avoid trim ring obstructions. CenterCheck verification is designed to indicate proper centering of the wheel before proceeding with the balance, and Quick Cal-Check is designed to confirm if calibration is needed at any time.