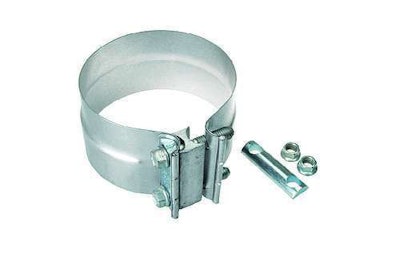 TRP Aftermarket Parts offers a line of exhaust mufflers, pipes and clamps for different configurations, including aluminized and chrome-plated tubes, Y-pipes and stacks, plus flex hoses in a variety of materials and precut sizes. The stacks also come in a range of lengths and configurations, including straight, west coast, curved and monster in both 4- and 5-inch diameters.
The TRP exhaust program offers operators a choice of good, better and best models of mufflers, all with internal support flanges on inlets and outlets to ensure long life. For operators who need a quieter muffler, TRP offers a premium muffler designed to reduce the noise level by up to five decibels compared to its standard muffler. For customers who need a muffler with low restriction for use on trucks with higher-horsepower engines, TRP offers a top-of-the-line muffler designed to reduce the noise level by up to another three decibels as compared to the better model.
The clamps use 304 stainless-steel bright material and bands with preattached hardware with force bars, nuts and reaction blocks to help curb tearing on installation. A stepped-band design for lap joints helps provide faster, more accurate installation and a better seal. The program offers customers a choice of good, better and best clamps; TRP's best clamp comes with a preformed band and heat-resistant gasket material designed to improve the clamp's sealing capacity by more than 50 percent over the performance of a standard stainless-steel clamp with a flat band.