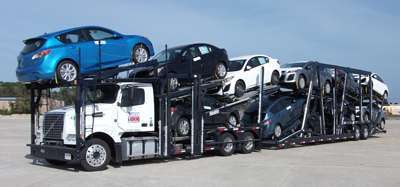 Volvo Trucks in North America announced a new truck, the Volvo Autohauler, exclusively for the automobile transport business. The company says the VAH was developed to maximize freight capacity while bringing efficiency, safety and comfort to the niche market. The VAH is a day cab with a lower chassis than standard models, a short bumper-to-back-of-cab (BBC) dimension and a U.S. Environmental Protection Agency-certified 2010 engine.
The VAH is being assembled at the company's New River Valley plant in Dublin, Va. "The new Volvo Autohauler is designed to maximize loading space for our customers while incorporating the latest in engine technology," says Ron Huibers, Volvo Trucks North America senior vice president of sales and marketing. "The lower chassis reduces the overall height of the truck, allowing a car, pickup or minivan to be positioned over the cab to maximize the efficiency of every delivery."
The design also features an axle-forward configuration to help provide the weight distribution needed for added maneuverability. With a clean top-of-frame behind the cab, the VAH is built for quick body mounting and easy trailer hookup. "Our goal with this new auto hauler was to reduce lead time and increase efficiency for auto transporters," says Wade Long, Volvo Trucks marketing product manager. "We worked closely with customers and truck body builders to understand and meet their needs."
Available with a Volvo D11 or D13 engine equipped with selective catalytic reduction, the VAH can deliver up to 500 horsepower while providing driver comfort and safety; the quiet, spacious cab, together with an ergonomic instrument panel that puts controls within safe and easy reach, helps provide a comfortable operating experience and minimize driver fatigue. The intelligent Volvo I-Shift transmission system continuously monitors changes in grade, vehicle speed, acceleration, torque demand, weight and air resistance; with the engine and transmission in constant communication, I-Shift is designed to select the best gear for the engine automatically.