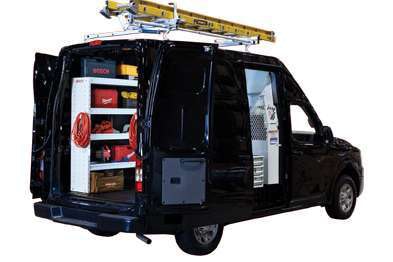 Knaack and Weather Guard Van Solutions now offer customized van storage equipment for the Nissan NV Commercial Van, featuring driver-friendly bulkheads and a wide range of shelving, specialty storage and roof rack options designed to meet the needs of professional contractors and field service/repair professionals. Customized Nissan NV bulkheads provide an extra 4 inches of room to stretch out the legs or recline the seat. The bulkhead is available in standard-roof and high-roof models, along with a lineup of bulkhead accessories such as hard hat, fire extinguisher and extension cord brackets, literature holders and first-aid kit and safety reflector kit trays. The Weather Guard Dog Hatch Door allows for storing 10 feet of pipe and lumber inside the van.
Within the cargo area, Weather Guard provides up to 90 inches of Jumbo Steel Shelving in which to keep tools and equipment secure and organized, with 44- and 59½-inch-long shelves designed for both the standard-roof and high-roof models. A 51-inch retainer lip is available for all shelving units that help to keep tools and equipment from rolling around on the floor while the van is turning or stopping abruptly. Weather Guard also offers a variety of locking storage units such as shelf doors, parts cabinets and file drawers to keep items more secure from theft or loss. All Weather Guard van storage equipment is manufactured using 18-gauge steel and comes in Armor Tuf powder coat in Brite White, designed to brighten up dark van spaces.
Weather Guard also offers a variety of specialty storage solutions such as Itemizer Drawer Units, Pack Rat Drawer Units and the Bed Rat Sliding Platform, all designed to keep the contractor's tools and equipment organized and within easy access. Weather Guard has designed four unique van storage packages recommended for general contractors, plumbers, electricians and HVAC contractors; each package provides customized solutions based upon the unique tools and equipment the contractor typically uses throughout the course of his working day. Weather Guard can customize a van storage package for any other type of trade to facilitate maximum productivity.
Outside of the van, Weather Guard offers the EZ-Glide System for loading and unloading ladders with the use of an ergonomic drive arm. A hydraulic cylinder is designed to provide a smooth, effortless descent and a zero-impact drop that reduces the load to the contractor's shoulders.