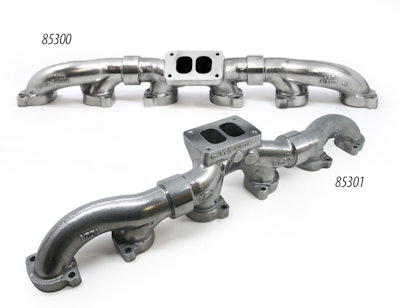 Bully Dog now offers two ceramic-coated exhaust systems for Detroit Series 60 engines designed to maximize airflow by smoothing out the sharp corners of the stock manifolds and eliminating any bottlenecks, and to eliminate any known failure points in the stock manifold.
Both exhaust manifolds work on the same model years of the Detroit Series 60 engines from 1995 through 2003. The high-mount option (Part No. 85301) typically found in Kenworth and Peterbilt applications will replace OEM manifolds No. 23519348 and No. 23511978. The low-mount option (Part No. 85300) typically found in Freightliner and Western Star applications will replace OEM No. 23532122.
The tolerances of the three-piece systems have been tightened to help prevent leakage at the joints. A special metal alloy also has been used so that all three pieces expand and contract at the same rate as the engine heats up and cools over the life of the manifold. Each manifold is finished with a high-performance ceramic coating both inside and out to help improve airflow while lowering exhaust temperatures radiating from the manifold by 300 degrees.