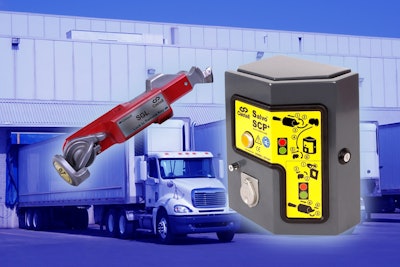 Castell's Salvo Control Panel+ is designed to provide fast, safe and easy access to loading docks and to prevent injury by making it impossible for trucks to drive away during loading or unloading.
The SCP+ works by attaching gladhand locks to the truck's emergency brake line, ensuring brakes are applied. Once the gladhand lock is applied, a coded key is released, which is used to open the dock door to begin loading or unloading the trailer; only after work is completed and the door closed is the key needed to unlock the gladhand brake lock released, making it impossible for the driver to depart prematurely.
An ergonomic enclosure is designed for fast access to electrical terminals and to reduce wiring time. An illuminated lock is available for use in 24/7 operating environments.