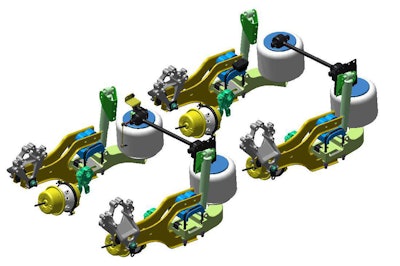 Mack Trucks' Twin Y Air Suspension uses a Y-shaped high-strength steel design for added comfort, handling and fuel efficiency for highway customers desiring a smoother, more stable ride. The lightweight Twin Y – available on the Pinnacle Axle Back and Axle Forward models – features the company's S38 and S40 series axles with C125/126 and C150/151 carriers.
The suspension includes two stamped high-strength steel Y-shaped blades per wheel end; the blades are joined to the axle with both upper and lower axle seats to facilitate reduced suspension windup and improved tire traction and braking control.
Mack's proprietary axle for its mRide spring suspension is suited for vocational customers seeking a durable, stable ride with greater articulation. The spring suspension, paired with Mack's C150/151 series axle carriers, is available for the company's Granite, Titan Pinnacle Axle Forward and TerraPro models.
The use of spring leafs over four separate rubber block packs is designed to offer stability and articulation while also allowing the needed clearance for larger tires and brake components required in construction and vocational applications.
For more information, go towww.macktrucks.com.