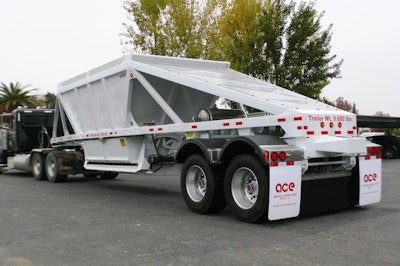 American Carrier Equipment's all-steel tandem-axle semi-bottom-dump trailer is built to be lighter that all-aluminum or aluminum-steel trailers while offering additional structural integrity and load capacity.
The trailer's front and rear structural members are tapered to help alleviate stress points throughout the trailer, while towing properties have been enhanced with the addition of a fully oscillating kingpin that functions as a solid finished bearing, helping to absorb and disperse the lateral stresses exerted on the trailer through pull and brake torque.
The trailer's design is engineered to make it easier to load, tow and discharge on harsh and severely challenging terrains. For more information, go to www.americancarrierequipment.com.