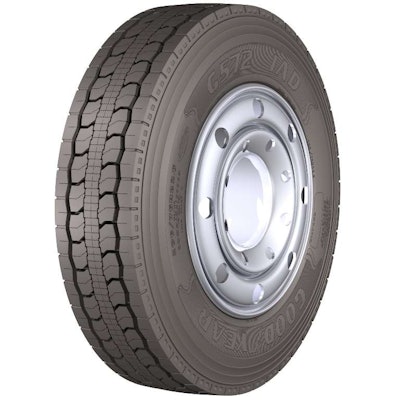 Goodyear's SmartWay-verified G572 1AD truck tire for single-axle drive and 6×2 applications is engineered for high-torque applications and features the company's proprietary Fuel Max Technology, which includes fuel-saving compounds and advanced design technology to help promote energy efficiency and fuel economy.
The G572 1AD's highly-siped center rib and lateral grooves help enhance all-season traction, while its semi-solid shoulder ribs and a 24/32nds tread depth help enhance traction, stability and long tread life in high-scrub applications. The tire also incorporates a retreadable casing and Goodyear's Tredlock Technology, which features interlocking microgrooves that help stabilize the tread for longer life and enhanced toughness.
The G572 1AD is available in sizes 295/75R22.5 and 11R22.5, both Load Range G, and can use the G572 Goodyear UniCircle and precure retread products. For more information, go to www.goodyeartrucktires.com.
Goodyear also recently announced an agreement with TravelCenters of America that will give drivers increased access to Goodyear tires.