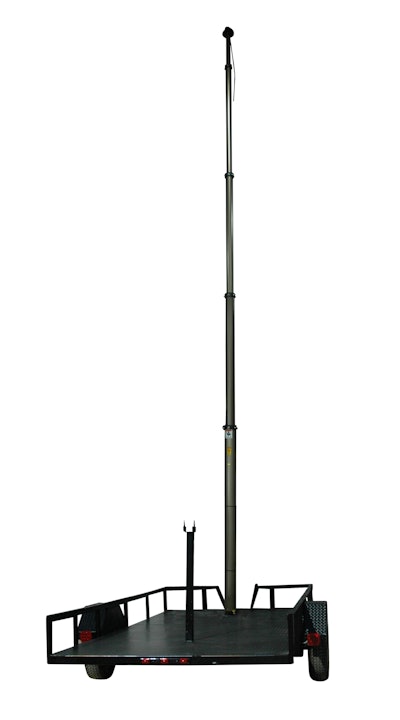 Larson Electronics' PLM-30-TLR Trailer Mounted Pneumatic Light Tower is a 30-foot extendable device that can be equipped with high-output LED, HID, halogen or metal halide light fixtures for elevated illumination.
The five-section boom can be collapsed to 8.25 feet and folded over for transport or when not in use. The light mast is mounted to a 25-foot single-axle steel trailer with a removable tongue for longer deployments and theft deterrent.
The trailer is constructed of 2-by-3-inch square tubing and can be mounted on a 2-inch ball-type receiver hitch; it is equipped with a 4-pin flat plug for the taillights, four corner-leveling stabilizer jacks and a receiving bracket to secure the folded light mast during transit.
Larson also offers the Magnalight LEDT8-28W-V1 28-watt T-series LED tube lamp suited for upgrading existing T8 fluorescent lamp fixtures to LEDs as well as being a direct replacement for the company's own LED light fixtures. For more information, go to www.magnalight.com.