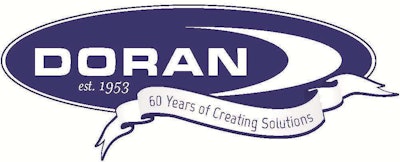 Doran Manufacturing, LLC announce the completion of 60 years in business. Doran has been in business since 1953 and provided transportation safety products since the early 1970s.
In addition to providing tire pressure monitoring systems for truck fleets, mining/off-road vehicles, RVs, bus fleets and motorcycles, Doran produces LED/incandescent Exterior Light Monitors and Sleeping Child Check monitors for the school bus market and continues to manufacture customized terminals & terminal boards in its original factory.
"Our owners' core values of creating a great place to work and have a career as well as treating customer's problems as if they are our own are long-term, embedded values lived by every individual in the company through decades of practice and good results," said Jim Samocki, general manager.
Doran says its team members have daily opportunities to create new products and resolve challenges for customers. Team members can be involved in building tooling for a custom brass electrical terminal, designing a new light monitor for a school bus company or completing integration projects with telematics provider partners to transfer TPMS data off the vehicle.