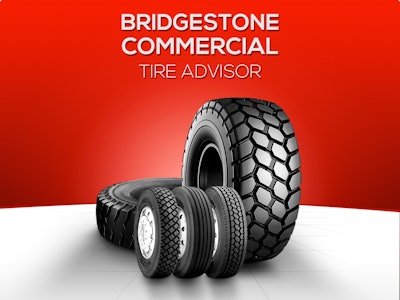 Bridgestone Commercial Solutions (BCS) today introduced a mobile app designed to help fleets and dealers quickly access and compare information about the Bridgestone family of commercial tire brands. Called Tire Advisor, the app is a one-stop resource connecting users to a comprehensive catalog offering multiple search capabilities with the ability to create a library for future reference.
Responding to customer demands for robust mobile tools that provide detailed specifications on products, BCS created the app in an easy-to-use format tailored to the specific needs of commercial dealers and users of off-road and commercial truck tires as well as retread products.
"Managing up to date product information across all the segments and brands of commercial business can be difficult, especially when our customer's time and resources are limited," said Matt Stevenson, Vice President of Marketing, Bridgestone Commercial Solutions. "Mobile technology such as Tire Advisor ensures that our customers have the most current product information available across all Bridgestone brands in a timely manner. Customers can review product information by intended application and equipment type when they want and share selected information with others easily."
Additional Tire Advisor mobile app features include:
Information about truck and bus tires (Bridgestone, Firestone and Dayton), Bandag retreads, and off-road mining and construction tires (Bridgestone and Firestone)
Search engine functionality to identify the right product for the customer's industry and application
Useful information about features, benefits, product images, technical specifications, and warranties
Easy navigation: Three easy ways to search for products: a step-by-step guided search, a filtered search and a keyword search that allows the user to jump quickly to a product by pattern name
Extended product information traditionally found in a product book or website
Ability to compare products side-by-side within the same brand
Ability to share product information with others by email and to save products to a "favorites" folder with the ability to create multiple folders
The new Tire Advisor app is available for free through the Apple iTunes Store. The iOS mobile app can be downloaded on iPad only.