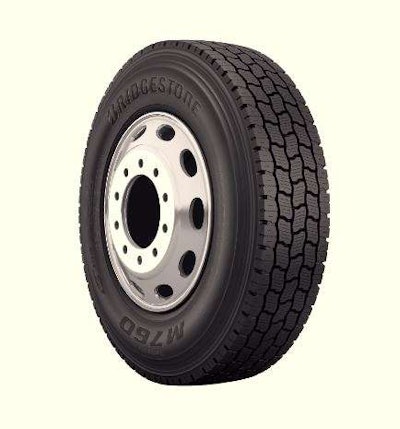 Bridgestone Commercial, a division of Bridgestone Americas Tire Operations, today introduced its newest retread product, the Bandag B760 FuelTech. The B760 FuelTech is a premium drive retread designed for tandem axle tractors in truckload and less-than-truckload applications. The Bandag B760 FuelTech product is EPA SmartWay verified and California Air Resources Board (CARB) compliant, providing truckload and less-than-truckload fleets with a retread solution that offers a balance between tread life, traction and fuel efficiency.
"We have an ongoing commitment to deliver technology and innovations that meet the needs of our fleet customers," said Ben Rosenblum, director of Bandag Marketing. "Due to its advanced tread design and proprietary compound, this product delivers up to 20 percent longer wear life when compared to the ultra-fuel efficient Bandag B710 FuelTech retread. Combined with dense siping for traction and fuel efficiency benefits, the B760 FuelTech retread is a smart solution for fleets focused on lowering their total operating costs."
Other features of the Bandag B760 FuelTech retread include:
Optimized groove width: combats the retention of casing-damaging stones and improves drilling resistance, leading to increased casing life.
Highly-siped tread design: provides strong traction on wet and dry surfaces.
Tie bars: control movement of tread blocks for long, even wear.
Multiple gripping edges: promote traction.
The new B760 FuelTech is available in four tread sizes in the U.S. and Canada – 210mm through 240mm. The sizes accommodate nearly any standard-width casing size used for truckload and less-than-truckload applications. The B760 FuelTech product extends the Bandag portfolio of SmartWay verified tread patterns for the drive position, which already includes the ultra fuel-efficient Bandag B710 retread.
To learn more about the benefits of retreading, visit www.retreadinstead.com.