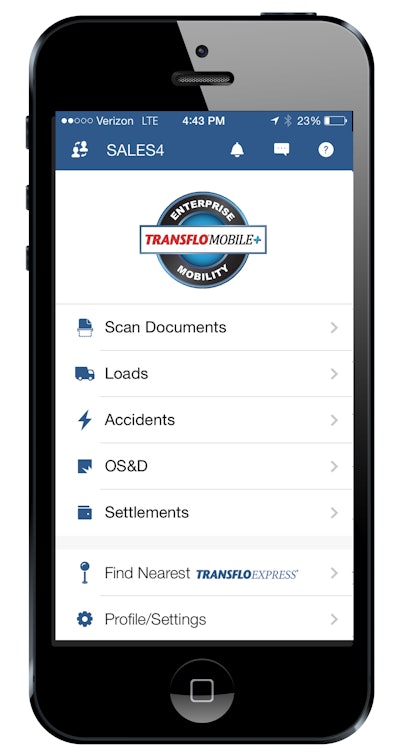 Pegasus TransTech, a mobile and business process automation provider, announced that Foodliner and Quest Liner, subsidiaries of the McCoy Group, have implemented the Transflo Mobile+ enterprise mobile platform.
Foodliner is one of North America's largest bulk food-grade carriers and longstanding client of Pegasus TransTech's document and business process automation services as well as Transflo Express truck stop scanning. Together with Quest Liner, which transports specialized liquids and chemicals, both companies represent a fleet of more than 1,100 tractor trucks and 2,100 trailers.
Foodliner will use the enterprise mobile platform to enhance the commercial driver experience. The company is the first to integrate company-approved fuel network functionality within the mobile app, highlighting preferred fuel partners with color-coded pins.
"By adding fuel information into the Transflo Mobile+ app, we are eliminating a driver's need to manually locate fuel stops and reducing out-of-route miles," said Tim Stueck, chief financial officer of Foodliner. "The change to a mobile platform has simplified our process because drivers now receive immediate mobile updates when we push information rather than waiting for a fuel book to be updated. We are essentially managing both savings and safety through the mobile application."
Commercial drivers at Foodliner are now managing their entire load from a single app that integrates with the rest of their company's operation. The company will add fuel stops to a map with the driver's approved delivery route in the next implementation phase.
"The company took advantage of the breadth of the mobile platform while adding their own unique points of data integration. The result has been a better business process and a better driver experience," added Frank Adelman, chief executive officer of Pegasus TransTech.
Additionally, Transflo Mobile+ has been enhanced to show negotiated rates and real-time fuel pricing along a driver's approved delivery route.