Maxion Wheels unveiled Wednesday at Heavy Duty Aftermarket Week (HDAW) in Las Vegas four new forged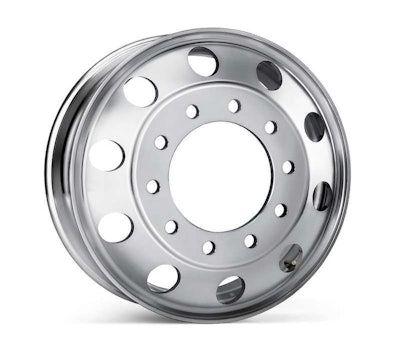 aluminum wheels.
Maxion Wheels President of the Americas Donald Polk says Maxion selected wheel sizes 22.5 x 8.25 in., 24.5 x 8.25 in., 17.5 x 6.75 in., and 22.5 x 14 in. as their entry into the market. Maxion says the 22.5 x 8.25 in. wheel—the industry's most popular size—weighs in at 45 pounds, a weight comparable to other aluminum wheels available in the market today. Maxion's 22.5 x 8.25 steel wheel options are 66 and 68 lbs., respectively.
"People are looking to lightweight their equipment," says Maxion's Director of North American Sales, Matt Kominars.
Customers operating in North America will be able to purchase the new wheels through aftermarket channels beginning in the spring with the initial rollout of the 22.5 x 8.25 in. A standard five-year limited warranty is also is included, the company says.