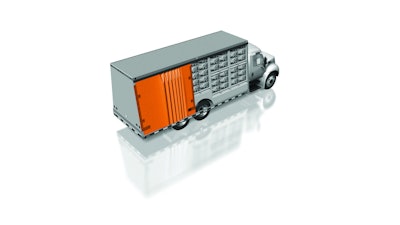 Kinedyne on Wednesday at the North American Commercial Vehicle Show in Atlanta debuted the industry's first load-rated curtain-wall system with a reinforced structural profile for trailers up to 53 feet.
Featuring easy access on both ends, the cargo space can be opened and closed quickly and Paul Wolford, vice president of sales and marketing for Kinedyne, says the lightweight system is versatile and adaptable to a number of logistical challenges like palletized cargo, double-decking, rack- mounted goods and the transport of beverages. The curtain was engineered to restrain lateral cargo movement.
Wolford says a load-rated curtain gives a trailer the advantages of flatbed access with the walled structure of a van trailer.
Another industry first, Kinedyne also unfurled Wednesday a double-decking system that enables users to optimize the cargo capacity of the load-rated curtain-side system. The system accommodates cargo of varying dimensions and heights. System configurations can support between 13,000 and 24,000 pounds on the second loading level.
Wolford adds the double-decking system maximizes load density, allowing loading and unloading access of both cargo levels from the sides and rear, and all of its components stow in the trailer to avoid loss or damage.
"Popular in Europe, load-rated curtains become part of a vehicle's overall load securement system," he says. "They save time, weight and fuel, while providing sideways restraint to otherwise fully secured loads up to the curtain's stated rating."
Also featured Wednesday were:
Fast-access curtain-side system for the urban market
This curtain-side system was developed for fast and repetitive city distribution and truck bodies of up to 28 feet. The cargo space can be opened quickly and accessed from both sides. This system can be combined with a sliding roof and rear doors, creating an open cargo access environment.
Quick-release curtain-side system for standard and tapered bodies
The flexible quick-release latching system is suited for truck bodies tapered at the top. This ergonomic system replaces cumbersome buckle closures and heavy roll-up doors that require stretching and straining to close.
Patented ultra-smooth sliding roof system
The sliding roof system has patented folding plates and can be paired with an extended range of aluminum rails or combined with other curtain-style rapid-access products. The sliding roof makes the loading and unloading of long cargo easier and allows the use of over-head cranes. Users can choose between a traditional rear-to-front sliding roof or a sliding roof that opens and closes at both ends. Special patented security accessories are also available.
Patented non-binding roller technology
All curtain-side and retractable roofs are equipped with advanced, patented roller technology that makes opening and closing them faster, safer and less ergonomically challenging. The three-roller design includes a steel horizontal roller that ensures effortless sliding and prevents the curtain from binding even when being briskly opened and closed.