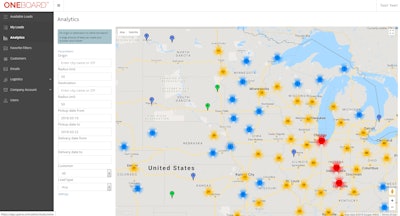 UTech debuted its OneBoard Dispatching Software platform Thursday at the Mid-America Trucking Show is Louisville, Ky. – a system that the company says consolidates load boards and load offer emails to simplify load analysis and selection.
OneBoard's subscription-based software features the first-of-its-kind load board consolidation technology that lets users pick and choose their load priorities all in one place. In addition, patented email-parsing technology will sort through the load offer emails and organize them on an "Available Loads" screen on the platform's dashboard.
"In an industry that's flooded with 'me too' software, our team knew we wanted to create something unique and special. There have been too many headaches fleet owners have had to face, but too few solutions that actually solved them, says UTech President and CEO Geo Forton. "It's taken two years of complex algorithmic coding, 500 tireless beta-test runs by dispatchers, and a U.S. patent to boot."
OneBoard also provides a "hot loads" map, allowing users to see where "hot" loads are located, so they can plan ahead and have them waiting for their drivers.
The system allows for both internal and external communication through the dashboard's text, email and phone features.