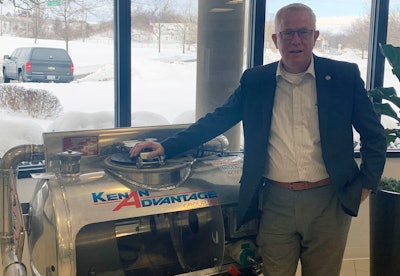 CCJ's Career Leadership Award program, currently in its 46th year, seeks to recognize maintenance professionals in the trucking industry who have demonstrated substantial accomplishment, involvement, leadership and contributions to the truck maintenance profession. It is sponsored by Shell Lubricant Solutions, and supported by Bendix, Dana and Utility Trailer.
Kirk Altrichter grew up just beyond the shadow of Mack's truck plant in Macungie, Pennsylvania, but it didn't occur to him that he'd end up working in the industry. The middle child of an electrician and school teacher, Kirk chose an entirely different career path that led him across the globe, far from his Lancaster, Pennsylvania, home and into some of the most hostile environments of the time.
As a child, Kirk enjoyed camping and spending time in the woods and eventually added team sports like wresting and track to his resume as he worked his way into high school.
He was enrolled in a vocational and technical program, spending half the day in a classroom and half in VoTech training where he focused on electronics and worked on TVs, radios and various household items.
As Kirk rounded the corner on his senior year in 1982, he said he wasn't quite sure what the future would hold, but he knew one thing for certain: he didn't want to enroll in college immediately.
"I just wanted out of high school," he laughed. "The recruiter for the Marine Corps was waiting for me when I got my diploma so that I could hand it to him … and within four weeks of graduation, I was down in Parris Island."
His brother already a Marine, Kirk said he was drawn to join the ranks of The Few and The Proud because "if you do something, be the best. That was my thought at the time," he said. "Uniforms looked good, and I didn't want to sit onboard a ship out at sea. It's funny though, I wound up spending quite a bit of time at sea – more so than I ever thought I would have."
After boot camp, Kirk found himself at Fort Sill for Artillery Forward Observer Training, then Little Creek, Virginia, for Naval Gunfire Spotter School, then Camp Lejeune.
"From there it seemed like I was constantly getting deployed," he said.
Kirk's tour of active duty took him places like Beirut and Libya, where he was charged with keeping Muammar Gaddafi in check.
"In Beirut, we were getting regularly shot at … I made some (audio) tapes and mailed them home. Mom thinks it's a message or something, and she starts playing it, and it's machine guns and artillery rounds going on in the background," he laughed. "That didn't go over very well."
In between the gunfire, Kirk kept his passion for electronics burning by completing the Navy's electronics program coursework and spending time in the radio room fixing electronics onboard the ship.
After four years active duty and achieving the rank of corporal – and having spent enough time in the Mediterranean that he could lead sight-seeing groups – Kirk transitioned to the Marine Reserves in 1986.
"What I didn't realize at the time was that every time I turned around, I was going to get called up and shipped off again," he said, noting stints in Desert Storm, the Philippines and Operation Iraqi Freedom. "I spent a lot of time in Southwest Asia and Europe."
Being more-or-less stateside – minus the deployments and the ongoing training commitment of one weekend a month and two weeks in the summer – allowed Kirk to enroll in college.
Kirk leaned on the Veterans Education Assistance Program to help fund his education, but that fell short.
"For every dollar I contributed, I got $2 back to a maximum of $8,100," he said, adding that even in 1986, $8,100 didn't go very far at the college bookstore.
He picked up an evening job with UPS loading and unloading trucks and went to school during the day in pursuit of a computer science degree.
Upon graduation and after a brief stint work in a central station at a security company, he joined Schneider National in 1994 and kickstarted a career in trucking.
"Some friends of mine from the Marine Corps talked me into coming over and interviewing," he recalled.
At the time, Kirk said Schneider was seeking to build its admin team in thirds: one-third former drivers, one-third from college and one-third military veterans. He checked two of those boxes. He also took advantage of Schneider's tuition reimbursement program to earn a master's degree.
Kirk's arrival at Schneider was fortuitous in many ways.
One, it set him on a path in the industry where he has distinguished himself as a leader and executive. Two, he served as a driver manager in Carlisle, Pennsylvania, for about a year before taking over distribution for Knoll Office Furniture – a Schneider account based in the Lehigh Valley – again, just a stone's throw from Mack's plant and the area where he would eventually meet his wife of 25 years, Jennifer. The couple lived right across the street from the Mack plant for a year.
Following what Jennifer called "a whirlwind" 10 months of dating, the couple married.
"He was eager to change the world, and make a statement for himself, and travel and have adventures," she recalled.
The adventures begin
In 1997, the couple moved to Bakersfield, California, where Kirk – now with a master's degree in business in hand – took over Schneider's Sears account for the western states, including 450 stores and oversight of several hundred truckloads per day.
After a couple years supporting Sears and living in California, the Altrichters struck out for Pacific, Washington, in 1999, where Kirk took over leadership of the operations team for Gordon Trucking, a carrier with which Kirk had been working as a partner carrier with Schneider.
For a guy that was anxious to simply get out of high school, the move to Gordon provided Kirk an entirely new set of learning experiences. He went from an operation that was "very structured – somebody for everything at Schneider – to a smaller company," he recalled. "You go from 15,000 trucks with Schneider to, I think Gordon at the time had 600. You get to be more a jack of all trades, which was enjoyable because you get to learn a lot."
Kirk's willingness to learn would prod his eventual move into maintenance.
Larry Gordon had encouraged Kirk to take over the fleet's maintenance, "and I told him (that's) not necessarily my forte. It would be a steep learning curve for me," he recalled. "I'm mechanically inclined, but that doesn't necessarily make me a good maintenance guy."
Kirk was deployed to Iraq in 2003, and when he returned, Gordon reignited that conversation.
"He kind of looks at me, and he says, 'If I wanted you for your maintenance abilities, I wouldn't be picking you,'" Kirk said. "'I want you for your leadership and your organizational skills.'"
After nine deployments and 21 years, Kirk retired from the Marines in 2003 as a chief warrant officer and took the transition to truck service head on.
"It wasn't long after I moved into maintenance that I pulled all the shop managers together and spent a couple days working through what their issues were, what they felt the priorities were and putting a game plan together on how we move forward and how we address their concerns," Kirk recalled.
Pay – specifically how an employee could advance in the company – and training were two of the primary concerns, so Kirk spearheaded the development of a training process that solved both issues.
"It took about two years to put together the training program," he said. "It was something like 120 or 130 training modules."
Rise through TMC's ranks
Now charged with reining in Gordon's maintenance costs and standardizing repair practices, Kirk – at the urging of then-Gordon CFO Bob Goldberg – attended his first Technology and Maintenance Council annual meeting in 2003, firmly entrenching himself in the world of commercial truck repair.
"It's like drinking through a fire hose," he recalled of that first meeting. "There's just so much information, but I think the bigger thing was walking away with contacts – people that I could reach out to after the meeting and ask questions or get a bigger understanding of how things are supposed to work."
As he expanded his peer network, Kirk quickly found himself deeply involved with TMC, and "within a few years, I'm running a study group: S.4 Cabs and Controls."
He led S.4 for six years and was elected to the organization's board of directors in 2011, serving in 2012 as vice chairman and chairman of meetings.
Altrichter, then-vice president of Gordon Trucking, was installed as the 2013-2014 TMC general chairman and treasurer, and 10 years after first stepping foot into a TMC meeting, he was awarded with the council's highest honor: the Silver Spark Plug. 
When installed as general chairman, Kirk, who helped develop and implement TMC's five-year strategic plan – a 22-point growth, marketing, educational and training program – said his goal was to focus attention on technician recruitment and to increase the representation at TMC of technical schools. 
He has long had a passion for people in the industry, both bringing in new people and seeing people succeed and move up.
"If you look at the schools, the high schools, they're pushing you to college," he said. "When I graduated, it was go to work, go to trade school, go to college or join the military, and they would try to steer you in the direction they thought fit best. That, somewhere along the line, got lost, and then people going into the trades really started to dry up."
As Kirk's reign as chairman was nearing its end, Gordon Trucking in late 2013 was acquired by Heartland Express.
Roughly three months after the close of the transaction, Kirk joined Crete as vice president of maintenance, handling the carrier's maintenance facilities, parts and truck and trailer procurement, "and dealing with, at the time, 3,500 Internationals with MaxxForce engines."
It took about three years, Kirk said, to renew the fleet of trucks, and just as that project was winding down, he was presented in July 2016 with an opportunity to join Kenan Advantage Group, North America's largest tank truck transporter and logistics provider, as executive vice president of fleet services.
Leaving the comfort zone
Kirk said his move from operations to maintenance challenged him to set aside the comforts that come with expertise in pursuit of knowledge. Ever since, he has been an advocate for people to push themselves out of their comfort zone "and tackle the things that are hard for you because you don't understand it."
"I'm a firm believer in rounding people out. Just because you started out as a shop manager doesn't mean you understand trucking. You understand your aspect of trucking, but you don't necessarily understand operations; you don't understand human resources; you don't understand sales or customer service," he said. "I like to round people out because you never know when you're going to need a terminal manager or a regional manager that should understand those things. Pursue what you enjoy doing, but give anything an opportunity."
What makes Kirk a good maintenance professional is his inclination to find root causes, which is the first charge of every technician on the shop floor. With 20 years in the maintenance field now behind him, he said he enjoys the service and repair aspect of trucking because it falls back to basic problem solving.
"I enjoy trying to figure out what the problem is and making sure that I've clearly identified what the problem is and not just a symptom, and getting the right people involved to come up with a solution for the problem," he said. "Can you be a maintenance guy without being a motorhead? Yes, you can."
He noted that over the years, his business degrees have become important tools in the service bay, just like an impact wrench or truck lift.
"[A business degree] is more of a generalist. If you're going to college for business, you're learning how to manage a business, whether that's working with people, working with books or how you set up contracts," he said.
Kenan Advantage Group President Grant Mitchell said the flexibility to be anywhere at any time and the ability to do whatever it takes is where Altrichter shines most. While he didn't take the traditional path from service tech to maintenance professional, Mitchell said Altrichter is a more than capable mechanical mind.
"Kirk can roll up his sleeves and be in one of our shops across North America, converse with our technicians, crawl underneath the equipment, and then within a couple of hours be sitting at that boardroom table talking high-level strategy," he said.
Altrichter is charged with aligning all six of KAG's operating groups, which Mitchell said influences having "safer, more reliable equipment, (fewer) issues on the road and giving us more uptime of our equipment to better service our customers and giving our employees, especially our drivers, safer equipment to operate."
People and passion
With his stamp already placed in the industry, Jennifer said Kirk is "still a go-getter. He's driven." But Kirk concedes he's driven by different motivators.
He now chooses to put that passion and fire into developing people.
"I want to see more of them continue on and be successful, whether it's in maintenance or something else. Several of them are running maintenance organizations for Top 100 trucking companies now, and I'd like to see more of the folks that I've worked with over the years continue down that road and be successful."
Kirk pours much of his passion for success and doing things the right way into his children. His sons Jared and Logan each worked stints in truck service: Jared in the shop at Gordon, hanging trailer skirts, and Logan in the breakdown center at Crete.
Jared is currently stationed at Laughlin Air Force patrolling the U.S./Mexico border and earned a degree in criminal justice. Logan graduated with a degree in architecture and works in Omaha, Nebraska. Daughters Averie and Lorelai are just beginning their high school careers.
Kirk has also remained involved with TMC and is currently working on a recommended practice that would define the requirements around carbon monoxide monitors and smoke detectors in sleeper tractors.
"Carbon monoxide is prevalent from exhaust fumes," Kirk said. "It's funny: you have to have them in your house, but you get somebody running an engine on a truck, occasionally a cab develops a leak."
Kirk got the approval more than three years ago to start the TMC Task Force, kicking off the path toward recommended practice. 
"There is nothing currently that you can spec into any of the OE's trucks for that," he said. "So, it's a matter of being able to get it built in so you've got an alarm for carbon monoxide and smoke in the cab. You buy an RV, it's in there. Why can't I get one in a truck?"
Kirk said he is hoping to push Underwriters Laboratories to update two of its standards, which would extend recommendations for CO monitors to commercial trucks. That could then be incorporated into a TMC recommended practice and be put up for balloting. The two standards currently cover recreational vehicles and residential.