Developed a cargo loading system that allows shippers to more fully and efficiently utilize trailer space while securing freight more effectively.
Stack attack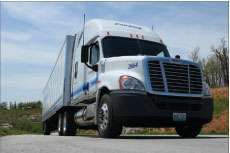 Con-way Truckload's flexible cargo management system puts customers first
Con-way Truckload, a full truckload carrier and subsidiary of Con-way Inc., has unveiled a new twist on an old idea of maximizing cargo space. The fleet says its new DoubleStack advanced cargo loading and capacity management system allows shippers to more fully and efficiently utilize space in trailers while securing freight more effectively to prevent shipment damage.
"I think, more than anything, we identified an opportunity here," says Saul Gonzales, vice president of operations. "This is an opportunity for our customers to save money in today's environment and an opportunity for us to build a long-term relationship with them."
The DoubleStack system features thick aluminum tracks attached to supporting vertical posts every 16 inches alongside 53-foot trailer walls, with adjustable bars, or crossbeams, that clamp securely into each track. The metal crossbeams are height-adjustable and can be set in a variety of horizontal track positions to accommodate freight pallets of different sizes, while maximizing the stability of loaded freight at any point in the trailer and ensuring optimum capacity use.
The ideal customer, Gonzales says, has a consolidation or distribution center receiving multiple shipments from different vendors, with different-sized products of different weights on different pallets. Because of the widely varying nature of these products, it traditionally has not been possible to double-stack in the trailer and fully utilize the cube space. "Now, using our system, a customer can, in essence, ship two widely different loads at once," he says.
The cost savings for Con-way customers potentially are dramatic. Instead of having to divide a shipment and pay to ship two incompatible loads, they can move in one trailer and one trip. Even though Con-way technically loses a load, it hopes to gain the confidence of customers and help them save money while building a long-term relationship.
Load security, endless flexibility
Con-way tried several different trailer stacking systems before finding the DoubleStack approach, which was recommended by the carrier's sister company, RSR. "We liked it immediately because of the 16-inch space between the aluminum support bars, as opposed to 24-inch spacing on other systems," Gonzales says. "This approach was more user- and customer-friendly and really gave us the flexibility we were looking for." Because of the exact 4-by-8 configuration of the bars, the use of plywood flooring material is not required.
Con-way also has discovered that the DoubleStack system reduces cargo damage during road trips. The racking system allows for loading cargo on two separate, adjustable levels throughout the length of the trailer.
"We run 100-percent air-ride equipment," Gonzales says. "DoubleStack has proven to be ideal for fragile products that must be segregated and traditionally cannot be double-stacked, or pallets with products of varying height dimensions and stability."
One of the first customers Con-way used to test the new system was a truck manufacturer with a large number of suppliers with vastly different-sized boxes and pallets. "We were looking at anything from radiator hoses to clamps, brake components or crankshafts," Gonzales says. "That was a serious challenge from a shipping perspective, because you can't double-stack those components in a traditional 53-foot trailer." By using the DoubleStack system, Con-way now allows that shipper to simply adjust the aluminum support bars to conform to the pallets and then configure the trailer to best double-stack the remainder of the shipment.
"What we have done is modernize this shipping method."
– Saul Gonzales, vice president of operations
Custom-designed strapping mechanisms unique to the DoubleStack system enable shipments to be tied down securely to prevent movement during transit and provide added protection against damage. In the same vein, Con-way also has found that DoubleStack provides outstanding cargo protection for highly sensitive items such as electronics.
"Traditionally, computer or smartphone manufacturers, for example, have been hesitant to double-stack their shipments because of the delicate nature of their products," Gonzales says.
Reinventing the wheel
Con-way hasn't belatedly invented the wheel with its DoubleStack system, which Gonzales will be among the first to admit. "This concept has been around for a long time, but what we have done is modernize this shipping method," he says. "DoubleStack is not as cumbersome as the old systems were."
Fleets traditionally have installed support bars and plywood, then reversed the entire procedure if the system wasn't needed. "Plus, you always had to worry that you'd lose support bars or plywood flooring because somebody forgot to load it back onto the trailer," Gonzales says. "All of that is a thing of the past."
That's because the DoubleStack system is fully integrated into the trailer's overall design. "If you don't need to use the system, you can simply slide the support bars to the top of the trailer and forget about them, because they're not going anywhere," he says.
The company initially has converted 100 of its standard 53-foot trailers to the DoubleStack system, with additional conversions planned for later this year based on customer demand. "We'll convert as many trailers as we need to, because with capacity being as tight as it is today, it's another solution for our customers who are having a hard time moving shipments," Gonzales says.
Herb Schmidt, president of Con-way Truckload, says the decision to spec DoubleStack trailers ultimately is about providing high-quality customer service.
"We are continually exploring ways to bring our customers advantages that enable them to obtain the highest value for the transportation dollar," Schmidt says. n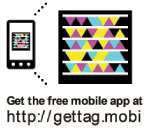 To view a video of Con-way Truckload's DoubleStack system on your smartphone, go to www.gettag/mobi to download the free app, then scan this image using your device's camera.
Innovators profiles carriers and fleets that have found innovative ways to overcome trucking's challenges.
If you know a carrier that has displayed innovation, contact Jeff Crissey at jcrissey@ccjmagazine.com or 800-633-5953.