CrossCountry Courier
Bismarck, N.D.
Created a route design tool to cut costs and improve service for its network.
Just in time
Expedited hauler uses a systems-driven approach to respond to challenges
CrossCountry Courier stretches the limits of ground transportation to give its customers a competitive edge in supplying businesses throughout the upper Midwest.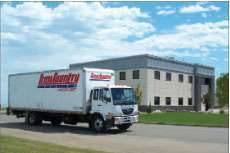 A company that supplies office products, for instance, can take orders until 5 p.m. and guarantee its customers next-day 7 a.m. delivery in North and South Dakota. A Missouri-based manufacturer of lawn and garden tools can ship orders to retailers in the Dakotas and Minnesota by noon the next day.
"Our customers are able to offer their customers longer service hours as well as more product offerings, and still provide early-morning next-day service," says Janeanne Bischke, president of CrossCountry Courier, which conducts its operations from 13 terminal locations in North Dakota, South Dakota and Minnesota. "Nobody is trying to duplicate this type of network, even though other carriers run in the same lanes."
In general, any shipment that the Bismarck, N.D.-based company picks up as late as 8 p.m. typically will be delivered by noon the following day within its three-state service area (the Dakotas and Minnesota) that includes the borders of Montana, Iowa, Nebraska and Wisconsin. The expedited hauler also offers on-demand "hot shot" delivery service if customers want even faster delivery times than its standard overnight service.
CrossCountry Courier has specialized in expedited transportation service since day one, in 1980, when owner Duane Tietz launched a courier business. Over the years, the company expanded into the less-than-truckload market but has kept its niche in offering just-in-time inventory solutions for customers.
Today, the company's average shipment weight is just below 500 pounds – a small number compared to typical LTL carriers' average of 1,000 pounds or more. Business consists of 98 percent LTL freight, and CrossCountry Courier also offers nationwide LTL and truckload transportation through partner carriers, as well as freight forwarding solutions that cater to the air freight market.
No more reinventing
By 2003, CrossCountry Courier had grown from a niche courier business to an LTL carrier with more than $30 million in revenues. In order to position the business for future success, management had to restructure the company to serve both large and small customers better. Technology was central to its efforts to transition a company from one driven by entrepreneurship to one driven by systems.
"We had been striving to become a systems-driven company and do what was necessary to create a high level of efficiency," says Bischke, who joined the company in 2003 as chief information officer. "To meet our growth objectives, we realized that we couldn't keep reinventing the wheel."
In 2004, Bischke became president and chief managing officer. Since then, she has implemented several new systems and tools to reduce administrative expenses and improve customer service, including a costing model, forecasting and rating tools, dispatch software, scanning systems and electronic connectivity tools that automate order entry and other types of routine communications with customers.
"We have analyzed every part of the company and systematized it, from forecasting to safety," says Bischke, who recently purchased CrossCountry Courier and its affiliated real estate properties from Tietz. "Databases and systems really dictate the decisions we make."
Recession and recovery
When business fell sharply in October 2008 as the recession's full impact was being realized, CrossCountry Courier had to radically alter the structure of its business. In spring 2009, the company began using a dynamic routing tool to cut costs and keep its expedited service network intact for customers. Lacking the time to evaluate a commercial routing software package and because of the company's unique requirements, management decided to develop its own routing tool internally with a staff of three programmers.
Because of the company's time-definite services, CrossCountry Courier's route designs have to be more static than a typical LTL carrier that is able to adjust routes dynamically according to changes in business volume. "What works for LTL doesn't work for us because of that uniqueness," Bischke says. "We really knew that we had the talent and ability to use information we already had and do it quickly."
The routing application uses information from the company's costing software and shipping history to design new routes. "We created this tool to dynamically create new routes and evaluate the net effect of those proposed changes," Bischke says. "What used to take us weeks or even months to analyze, we can now analyze in hours."
The route design tool also helped the company determine the impact to customer service in advance of taking capacity out of the system. "We tried to make changes that would impact customers as little as possible," she says.
Within a month of using the new tool, CrossCountry Courier had closed three terminals and reduced mileage by 2.4 million miles per year. Today, the company handles up to 2,000 shipments a day with about 300 employees and 200 company-owned vehicles.
Another invention that has helped reduce operating costs is a new data entry tool. CrossCountry Courier, which uses a commercial dispatch software system, has created various custom applications, one of which has made the order entry process eight times faster while reducing data entry expense by 80 percent.
"Databases and systems really dictate the decisions we make."
– Janeanne Bischke, president
"We customized the software to reduce the number of fields and the speed by which people could maneuver through the software," Bischke says. "We focused on reducing keystrokes as well as using known information about the shipper to facilitate that process."
As part of the order entry process, customers can enter orders online and through electronic data interchange (EDI). When customers order a pickup electronically, the order can be authorized and dispatched to a driver through cell phone technology. CrossCountry Courier also uses scan technology to track shipments through the delivery network; the information gathered also is used to monitor line-haul efficiency.
About 10 months ago, the company developed a new rating and quoting system called Exceeding Expectations to improve efficiency and customer service even further. For each order, the system calculates pricing options for all services that CrossCountry Courier provides: truckload, LTL and hot shot.
Providing customer service representatives with immediate multiple rating options when quoting improves speed and accuracy, and allows the company to present the best pricing option to the customer. "It has really improved our level of customer service," Bischke says. "It is all about the details in this business." n
Innovators profiles carriers and fleets that have found innovative ways to overcome trucking's challenges.
If you know a carrier that has displayed innovation, contact Jeff Crissey at jcrissey@ccjmagazine.com or 800-633-5953.