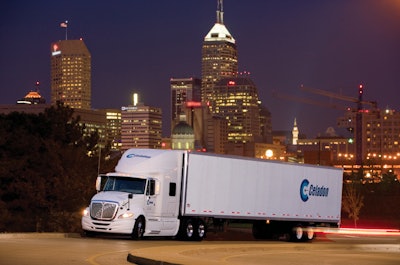 Celadon Group, an Indianapolis, Ind.-based general freight carrier, has been named the 2015 CCJ Innovator of the Year by Commercial Carrier Journal for its use of technology and software to make booking loads a more sophisticated and analytical process.
Celadon (No. 40 in the CCJ Top 250) developed proprietary software that enabled it to give it a more detailed look at profitability and to score customers, allowing it to strategically book orders and to change the company's culture.
"We had an extraordinary group of trucking companies in this year's class of CCJ Innovators," said Jeff Crissey, editor of CCJ. "They represent some of the best and most forward-thinking companies in our industry. We are proud to name Celadon Trucking as CCJ's 2015 Innovator of the Year and hold it up as an example to the rest of the trucking industry. The company's transformation of its customer service department and the resulting improvements in terms of employee retention and profitability were certainly impressive, and the things Celadon is doing are applicable to most every trucking company in North America."
CCJ, a national leading business magazine for truck fleet executives, highlights one innovative fleet each month as part of its CCJ Innovators program, and it names the Innovator of the Year at the CCJ Innovators Summit in February each year.
CCJ detailed Celadon's innovation in depth in a May 2014 article. Click here to read it.
The carrier will be featured on CCJ's website and in a cover story in a print edition of CCJ for its achievement.
Click here to see the full list of CCJ Innovator of the Year finalists.