CCJ Innovators profiles carriers and fleets that have found innovative ways to overcome trucking's challenges. If you know a carrier that has displayed innovation, contact CCJ Editor Jeff Crissey at jcrissey@ccjmagazine.com or 800-633-5953.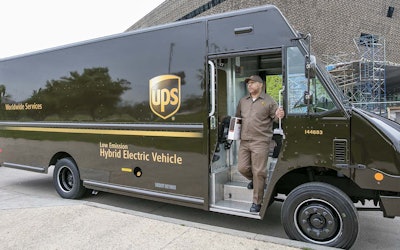 "Where's my stuff?"
With 18.3 million packages and documents delivered every day, that's a question customer service representatives at UPS (CCJ Top 250, No. 1) answer thousands of times every hour.
To provide customers with better visibility and more control over deliveries, in 2011 the pickup-and-delivery giant launched its UPS My Choice service, available in two levels. The free subscription provides delivery alerts, approximate delivery times, online package signing and other pay-as-you-go options. A premium subscription adds the ability for customers to change the address or day of deliveries, even when packages are en route.
On the retailer side, UPS offers a menu of e-commerce solutions to facilitate both domestic and international transactions, including web border marketplace fulfillment, simplified returns, multi-language web storefronts, customs clearance and fully landed price information, among other options.
The UPS My Choice service also offers retailers the ability to customize delivery notifications to help them build customer loyalty and increase sales. "With these custom notices, our e-commerce retailers are able to send a tailored discount offer, product referral or thank-you message to their online consumers as part of UPS My Choice delivery alerts," says Teresa Finley, UPS chief marketing officer.
Today, UPS My Choice has more than 22 million subscribers using personal computers or mobile devices via the UPS Mobile app, which has more than 8 million downloads on iOS and Android platforms.
Until recently, the package tracking had been limited to updating customers on package status from origin to sorting and distribution centers to local delivery.
By further leveraging the company's information technology infrastructure, UPS executives knew it could build upon this service.
Real-time tracking
In an effort to improve the customer experience and in many ways redefine customer expectations for package tracking, UPS's IT department delivered on its mission with the introduction of the UPS Near Real-Time Service Performance Reporting Tool (NRT) in 2014.
"NRT is designed to find new ways to improve our network performance, overall customer service and, ultimately, customer satisfaction," says Juan Perez, UPS chief information officer. "NRT represents the next big step in UPS's big data and analytics journey."
UPS's NRT solution uses predictive analytics to provide operations personnel with an interactive view of package movement and service performance throughout the company's global small package network by interpreting up to 8,700 data transactions per second (more than 750 million per day), including pickups, sorting, transfers and deliveries moved by train, truck or plane.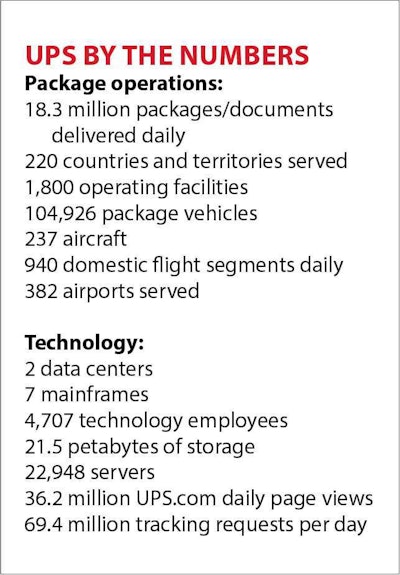 NRT also continually monitors weather or other conditions that would require alternative solutions to maintain an on-time network.
"Handling more than 18 million average daily package deliveries, the additional insights the NRT solution provides extends UPS's capabilities to predict a particular package that might have a service issue and allow our operations teams to intervene and provide on-time delivery," says Dave Barnes, UPS chief information and global business officer. "This industry-first innovation has been a key enabler for enhancing overall service, performance and customer experience."
In May, UPS integrated a consumer-facing version of NRT, called "Follow My Delivery," introducing it as a bolt-on to the company's UPS My Choice service. Using the new feature, UPS My Choice subscribers with eligible UPS Air and UPS Worldwide Express packages can track the exact location of the expected package on the day of delivery.
With Follow My Delivery, consumers receive an email or app alert on the scheduled day of delivery with instructions on how to follow the package in near real time. The system then displays a detailed map with the locations of the delivery and the delivery vehicle. The map automatically updates the delivery vehicle's location every two minutes, similar to Uber's app experience.
According to UPS, Follow My Delivery provides consumers with better schedule flexibility so they know precisely when they need to be home to accept delivery. UPS says it plans to expand on its Follow My Delivery feature in the near future.
Taking to the sky
UPS also is tapping into the emerging commercial drone industry, expected to reach $82 billion in the next decade, by pioneering an effort to establish drone delivery for urgent commercial applications. The company has partnered with CyPhy, a drone company specializing in defense, public safety, transportation and agriculture applications.
Last month, the two companies demonstrated drones' delivery capabilities in a mock delivery of urgently needed medical supplies from Beverly, Mass., to Children's Island, located three miles off the Massachusetts coast.
"Our focus is on real-world applications that benefit our customers," says Mark Wallace, UPS senior vice president of global engineering and sustainability. "We think drones offer a great solution to deliver to hard-to-reach locations in urgent situations where other modes of transportation are not readily available."