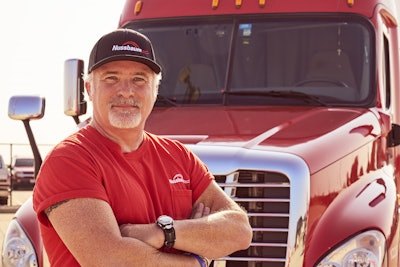 SmartDrive Systems announced that Nussbaum Transportation Services has achieved significant operational improvements using its SmartIQ Transportation Intelligence Suite.
SmartIQ is a platform that offers operational metrics, management KPIs, reports and dashboards for managers and interactive visualizations for advanced analysis.
Nussbaum adopted SmartIQ in a variety of areas. The company first adopted SmartDrive across its fleet of 315 trucks in 2015. Driven by a desire to further reduce fuel consumption fleet wide, Nussbaum subsequently incorporated SmartIQ Streams, which are feeds of driver, vehicle and driving performance data collected by the SmartDrive video analytics platform.
Nussbaum integrated the SmartIQ Streams with a custom-built software program to gain greater visibility into the fleet's fuel consumption, and identify opportunities to increase efficiency.
As a result, Nussbaum has improved its CSA Behavior Analysis and Safety Improvement Category (BASIC) score by nearly 73 percent in the "crash indicator" category; its score in the "unsafe driving" category is the lowest it has been in two years. Nussbaum has also improved its SmartDrive Safety Score by more than 40 percent since launching SmartIQ.
"SmartDrive was the first video-based safety company to pull data off the ECM and combine it with G-Force and video safety data. We were able to use this combined dataset not only to improve safety within our fleet, but also to significantly lower fuel usage and maintenance costs," said Jeremy Stickling, director of human resources and safety at Nussbaum. "With SmartDrive, we can now help our drivers focus on improving driving skills, including space and speed management. SmartIQ has given us insight never before possible, while allowing us to run a safe, efficient and productive fleet."
As Nussbaum's drivers began engaging with the SmartDrive program, their driving improved as did overall fleet metrics in fuel consumption, safety and other areas. Additional advantages have included a reduction in the fleet's insurance premiums.
"The future of transportation innovation is being driven by companies like Nussbaum that understand that it's not about big data — it's about big results made possible by actionable information. It's no wonder Nussbaum received CCJ's Innovator of the Year Award," commented Steve Mitgang, CEO of SmartDrive.
Stickling will discuss Nussbaum's use of the system during a webinar on Thursday, April 13 at 11:00 a.m. PT. For more information and to register, click here.