CCJ Innovators profiles carriers and fleets that have found innovative ways to overcome trucking's challenges. If you know a carrier that has displayed innovation, contact CCJ Editor Jeff Crissey at jcrissey@ccjmagazine.com or 800-633-5953.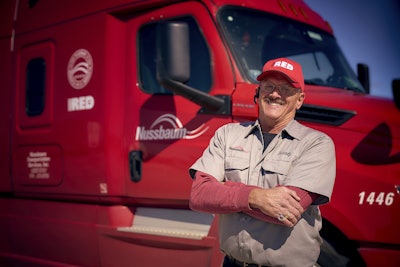 In 2016, Nussbaum Transportation Services started using a unique system to score driver behaviors and habits. It was developed by the company's human resources and safety team, which identified four key metrics using data captured by the fleet's video-based telematics platform.
Nussbaum developed a 10-point scale called Habits Ratings that simplified the management of four types of complex driving behaviors: speed management, smooth driving, throttle usage and space management.
The Hudson, Ill.-based truckload carrier was recognized by Commercial Carrier Journal as the 2017 Innovator of the Year for its novel use of technology, data and incentives to improve driver safety and fuel efficiency.
In fall 2017, management created the Nussbaum Academy as a way to engage drivers in personal growth and development. For nearly two years, the fleet's drivers have been enrolling in a Certification RED program.
Next-level engagement
Drivers at Nussbaum already can make 8 cents per mile on top of their base rate by reaching the Platinum level of the fleet's scorecard program. The payoffs for drivers who refine their habits are significant, but management saw an opportunity to use a voluntary program to incentivize them toward a new level of engagement to reach that extra gear where they view their profession beyond just driving a truck.
With the Certification RED program, or CertRED, Nussbaum drivers can "engage in their own terms, and in their own way," explains Jeremy Stickling, vice president of human resources and safety. "It is not something we try to force drivers into."
The company introduces the program to drivers during orientation training. "When we hire somebody, we realize [the program] is not everybody's cup of tea," Stickling says. "The idea is if you work here, we are going to give you the resources where you can maximize your skills."
To achieve CertRED, drivers complete a checklist of requirements that takes between eight months and one year to complete. Some items are based on results such as having no moving violations, a clean Compliance Safety Accountability record and no more than one service failure.
In addition to results, Nussbaum also incorporates behaviors into CertRED. Drivers must keep their Habits Ratings above a 7.0 and demonstrate they are low risk, Stickling says.
"[7.0] is a very achievable standard," says Stickling. "It is set high enough to show that drivers are intentional about how they drive."
The checklist's skills development portion is organized into four rounds similar to quarterly school semesters. In each round, drivers have to complete:
One hands-on training course with a Nussbaum training engineer. The courses include a rodeo-style skills challenge, a fuel economy run, a full-scale vehicle inspection, a winter driving course and backing/maneuvering.
Up to three phone coaching sessions. Each call lasts from 20 minutes to an hour and is conducted by an office staff member or a driver trainer. One training session is with Nussbaum's chief financial officer who explains how the company makes money and shares details about load margins and other financial topics. The phone training also covers behaviors, vehicle inspections, advanced logging and trip planning techniques and customer interactions.
An additional 15 to 20 minutes of online learning every month beyond what drivers already are assigned.
Drivers can complete all learning and development requirements at their own pace but have to wait two months to advance to the next round.
Receiving recognition
Once drivers complete all the CertRED requirements, they get a permanent 2-cents-per-mile increase to their base rate. Perhaps more important is the recognition they receive.
"There is excitement when you have a target you are aiming for," says Brent Nussbaum, chief executive officer. "Certified RED establishes a challenging target, and drivers really feel they've achieved something substantial when they hit it."
A driver participates in a graduation ceremony led by Brent Nussbaum in the middle of the operations floor. Spouses and other family members of drivers often attend.
At the ceremony, drivers get a custom CertRED hat and a sterling silver ring embossed with their name. The ring and its display case are valued at more than $550.
Another reward is a custom decal for the truck. Stickling says Nussbaum drivers have been paying attention to trucks with a CertRED decal, which "has had a better response than I would have predicted. That part has been fun."
The driver also is recognized on the company's social media channels and through internal communications.
Once drivers earn CertRED, they can advance to RED 1, to RED 2 and on up to RED 10. Each level requires 100,000 continuous miles of driving that meets the same requirements as the initial certification. Drivers can hit 100,000 miles in as little as nine months, Stickling says.
RED 1 and subsequent levels do not have as many training requirements as CertRED. For each level, drivers have to complete between two and three hours of extra online learning. For RED 1, drivers have to attend two separate two-hour job shadows, one each with the operations and maintenance departments.
The hands-on training and phone coaching sessions for RED 2 through RED 10 are under development, but they will be more technical and focused, Stickling says.
The ring drivers get with CertRED has 10 spots to add small diamonds for each level. Each diamond adds between $130 and $170 in value. Drivers also get a half-cent increase in their mileage pay at each level, reaching a max of 7 cents per mile at Red 10 (2 cents for CertRED and 5 cents total for levels 1 to 10).
Career opportunities
Nussbaum also is keeping drivers engaged with a road captain program. Every driver manager has between 30 and 35 drivers, and three drivers in each fleet have the opportunity to serve.
Being CertRED is a requirement to be a captain. Beyond that, drivers must be "practical, reliable, helpful drivers who are motivated by helping our their fellow driver," Stickling says.
The responsibilities of a road captain are to mentor new hires and receive calls from other drivers who want to talk about their performance with a peer. The extra compensation is $25 a week plus "kickers" when their new hires reach milestones, Stickling says.
Captains also participate in a quarterly bonus program that is paid out if the fleet meets its retention goals.
Nussbaum has an opportunity as well for top-performing drivers to spend two days a month in the office coaching their peers who have safety scores in the lowest 10% of the fleet as measured by its video-based telematics system.
Building momentum
The results since CertRED's inception have been compelling. The turnover rate of drivers enrolled in the program year to date is 18.8%. CertRED graduates have a 6.6% rate. Overall, the fleet's turnover rate is 31.8% YTD.
CertRED drivers are averaging 80 more miles per week than nonparticipants, which represents about a 3% increase in productivity, and the drivers are earning between $70 and $140 extra per week. "That is a needle mover," Stickling says.
On the safety side, the data show CertRED drivers in 2018 were three times less likely to have severe preventable accidents. "That is a very real number to us as well," Stickling says. Nussbaum defines a severe accident as any incident that costs the company more than $3,000.
Engagement is another measurable difference. A third party conducts fleetwide surveys for Nussbaum. The survey data show drivers enrolled in CertRED are 88% engaged based on the survey vendor's engagement index. Drivers who do not participate in CertRED have a 78% engagement level.
The engagement is a key factor in the program's ongoing success. The total number of drivers who have enrolled or have graduated with CertRED is about 160. Nussbaum has a 400-truck fleet, and the momentum is building quickly from the influence that CertRED drivers are having on their peers to join, Stickling says.