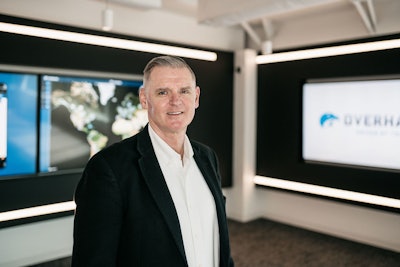 CCJ Innovators profiles carriers and fleets that have found innovative ways to overcome trucking's challenges. If you know a carrier that has displayed innovation, contact CCJ Editor Jason Cannon at jasoncannon@randallreilly.com or 800-633-5953.
Barry Conlon found himself in a place many carriers can relate to pre-pandemic: staring down the barrel of a 60% liability insurance rate hike.
Despite zero at-fault accidents the year before, Regional Express Carriers (REC) – Conlon's 24 truck Laredo-based fleet – "was being lumped into the same bucket as everybody else," he said, "because there's been an increase in the number incidents, the number of verdicts ... The almost daily struggles to afford these premiums is just crippling."
Conlon founded Overhaul, an intelligence-driven, real-time supply chain visibility and risk-management technology provider, six years ago as a side-hustle for his trucking company and as a direct path to better integrate technology-enabled efficiencies into his fleet. The timing couldn't have been better. Driven by waves of nuclear judgements, commercial trucking insurers were leaving the market in droves, and many underwriters that remained increased premiums hundreds of percents due to the added risks.
Conlon knew the kind data that could show underwriters a carrier's accident risk existed, but packaging it all together was problematic.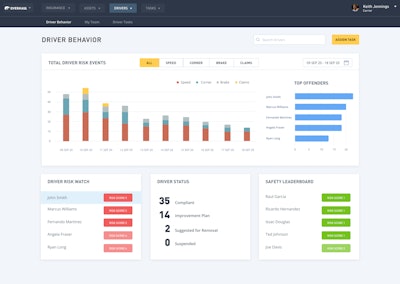 "There is a lot of owner fear in the trucking industry: fear of an accident, fear of rising premiums and fear of a nuclear verdict. Building a technology that controls and reduces that fear, while helping ensure your employees travel home safely was the motivating factor," he said of the development of TruckShield. TruckShield is a risk-management technology solution, and uses existing motor-carrier fleet hardware to identify dangerous or illegal driving practices in real time, allowing fleets to implement corrective actions to avoid costly situations that can develop due to motor accidents.
Following a two year development cycle, Conlon used REC as a testbed during development and "within half an hour of launching the technology, its sends three alerts on three of the drivers that were breaking the speed limit," he said. "After [REC operations manager] made three quick phone calls to say 'Stop it. We're watching it," he said, "for about 2 weeks, we didn't get another one. The effect is that drivers know there's a measuring tool out there. If you do something that you shouldn't be doing, we're going to be on it and you're going to have re-training, which is onerous. You're going to have to get counseling if you don't do it, or you're going to be on the radar [for termination] because you're the one putting us at risk."
As much as REC's TruckShield platform identified bad driver behavior, Conlon said it also separates the good drivers, "and it helped me identify and shine a spotlight on them. We're using this as a positive reinforcement and this is how we're going to compensate our drivers going forward – on their safety record."
REC was able to demonstrate, over a data collection period of three months, the ability to use this information to make an impact on safety, and show its proactive coaching efforts, which dropped the carrier's risk score. "Year one, we got a 15% discount, and it could be 30% if I can keep it up for 12 months," Conlon said. "It's saving real dollars. Significant money."
Driver behavior platforms aren't exactly new, but Conlon said his differentiator is that TruckShield doesn't require another set of hardware. He said it's a "download and go" application for whichever device carriers use for electronic logs.
"The problem is the frustration associated with needing new hardware and software with each new widget," he said. "and the requirement to take trucks off the road for installation. I developed TruckShield to be an app-engagement that will just sit on your ELD. That's something that's already owned by the fleet, they've already invested in that technology – they are all tablets or phones – and they can receive apps. There's no integration or backend API necessary [with thrid-party providers]."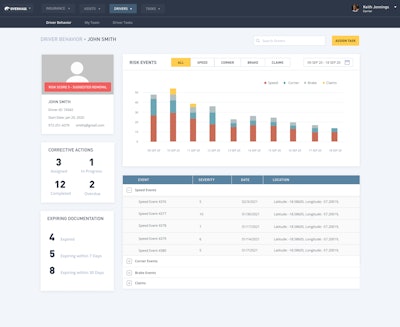 The fleet has access to a dashboard, which gives immediate insight into a given driver's risk – "who's behaving and who is not," Conlon said. "And when they're not, it has a system that's designed to actually manage that in a corrective space to a better conclusion for that driver: training – giving them re-training around safer driving practices, watching how quickly they take that training because that's another risk score and if that training is not working, what is going to be that next step. And you're getting that data in realtime."
TruckShield also defends against predatory legal practices in the event of an accident, digitizes and centralizes insurance, maintenance, and safety management, and builds a data profile to showcase safety culture to insurers.
"TruckShield is also a witness on behalf of the trucking company to demonstrate to the bench, which in many cases has awarded these big verdicts because there isn't data to support the [defense] claims, that people are making about safety culture and safety training," Conlon said.
The system also manages critical documents related to insurance, maintenance, and safety in one centralized digital location, enabling administrative tasks such as filing a claim to be accomplished with a click.
It enables fleet management to improve its culture of safety, bolstering confidence with insurers, by enabling fleets to maintain complete records of driver coaching, maintenance performed and claims made to expedite insurance renewals.
Conlon said he working to develop a network of commercial partnerships with insurance providers and brokers that will provide TruckShield users with access to lower cost motor-carrier liability coverage that he hopes to unfurl "in the coming months."
"If I can demonstrate to an insurance partner that, not only am I aware of risky behavior," he said, "but I'm seeing it before it becomes an incident then I have the ability to actually eliminate it and manage it out of my business."