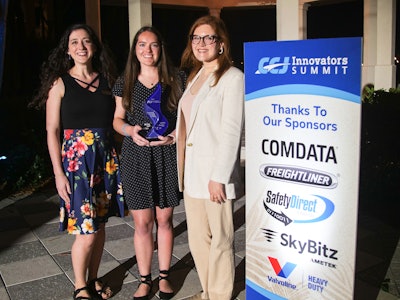 Commercial Carrier Journal has named Melton Truck Lines its 2023 CCJ Innovator of the Year for successfully organizing and structuring a social media influencer program that financially incentivizes driver participation. Melton becomes the first-ever two-time CCJ Innovator of the Year, having first been recognized in 2014 for its efforts to improve driver health and wellness.
Kennedy Alvarez, Melton's digital marketing manager, noted the influencer program has presented the Oklahoma-based flatbed carrier with a "tremendous branding opportunity," as the company's driver influencers – currently up to 12 – have produced more than 100 videos since April 2022, amassing more than 300,000 video views. Those views, she said, have led to a boost in driver referrals, online applications and hires.
Melton launched its driver influencer program in 2022 as a new-age method of word-of-mouth advertising as traditional word-of-mouth – consistently one of Melton's top 10 hiring sources – became less effective as pandemic restrictions led to fewer face-to-face interactions. Recognizing that many of her own choices were in some way influenced by social media influencers, Alvarez deployed that strategy to Melton's driver force.
Through the influencers program, drivers create and share videos about their experience as a truck driver at Melton, but the drivers themselves dictate the content. Topics, Alvarez said, include everything from cooking to working out and anything in between. The company does not dictate topics to its driver influencers, she said, as part of an effort "to keep it authentic. We want our drivers to tell their stories in their own way."
The number of videos each driver influencer produces each month varies, but each is required to post at least one video a week, or four per month, to their preferred platform: Facebook, TikTok, YouTube, etc.
Alvarez said drivers are incentivized based on a minimum video production requirement (at least four per month), and they can earn additional money if they meet certain engagement goals based on what Melton's team has found converts better on certain platforms. They can also earn additional money if their video leads to a referral and a hire.
Alvarez said one of the takeaways of the program – one that even surprised her – was that the social media influencers program wasn't necessarily just for younger drivers. She noted that one of the company's most popular and engaged content producers is a driver in his early 50s.
Melton Truck Lines was selected by CCJ editors as the 2023 CCJ Innovator of the Year at the 19th annual CCJ Innovators Summit in Key Largo, Florida. The event gathers current and previous CCJ Innovators for three days of networking, presentations and idea sharing among some of the trucking industry's most forward-thinking fleets and leading executives. During the year, CCJ, a national leading business magazine for truck fleet executives, highlights one fleet each month as part of its CCJ Innovators program.
Melton was in a class of other industry-leading fleets recognized by CCJ editors throughout 2022 including aifleet, U.S. Xpress, Woody Bogler Trucking, GP Transco, Roadrunner, Roehl Transport, FreightWorks, Rollzi, Clark Transfer, Schneider and IMC Companies.
The CCJ Innovators program is sponsored by Bendix, Comdata, Freightliner Trucks, SkyBitz and Valvoline.