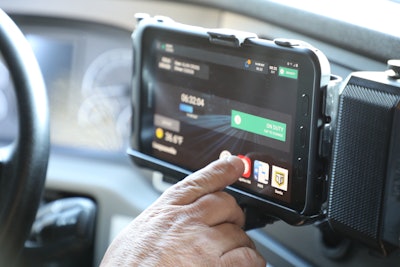 Walmart
CCJ Innovators profiles carriers and fleets that have found innovative ways to overcome trucking's challenges. If you know a carrier that has displayed innovation, contact CCJ Chief Editor Jason Cannon at [email protected] or 800-633-5953.
With apps giving drivers fits and providing no real-time visibility of their assets and loads, Walmart's supply chain leaders knew it was a time for a change.
Carol Nixon, who after driving for Walmart for roughly nine years, recalled using three out-sourced driver workflow apps that missed the mark.
"Some of the other programs we used before were so not compatible with what we needed to do. It was frustrating. You'd spend more time messing with it and having to pull over to get it right," said Nixon who as driver since 1990 has seen her share of paper and computer-based workflow systems.
Time lost on the road to app issues kept adding up to less pay for drivers and less than ideal delivery times.
"That's frustrating as a driver," Nixon continued. "We're paid by the mile, we're paid by the piece, work by the hour—whatever we're doing, if you pull over and have to keep messing with it, you're losing money."
Scott Donahue, Walmart's vice president of supply chain product, said the world's largest retailer had tried and failed to find an outside vendor to create an app that would reduce driver interface while helping drivers more effectively manage things like scheduling deliveries, dealing with trip cancellations, handling timesheets and communicating safely and quickly with managers, store associates and family.
As driver surveys rolled in, Donahue watched the fleet's Net Promotor Score (NPS) plunge. NPS is a proprietary performance measurement from Bain & Company that relies on survey questions where participants choose numerical values of 0 to 10 for responses. Donahue said NPS has become "our sort of obsession with end-user experience with our drivers." Surveys go out to drivers daily at different times "because a driver may feel differently at the beginning of their day and then at the end of their day," Donahue explained.
NPS results for their past driver apps continued to fall short.
"Technically, 100 is perfect in NPS, however anything above an 80 is considered world class," Donahue said. "It's not uncommon for products of this type [driver workflow apps], including some of our prior products, to be in the 20s or teens and it can also go negative as well."
Donahue said driver surveys for their last third-party app resulted in a Net Promotor Score in the teens.
"The app took a long time to load and even when it did load, it had incorrect information and it didn't have the functionality they needed," he said. "It caused a lot of frustration and that frustration is friction for our drivers, and that's not conducive to being world class. It also didn't provide us the data visibility we needed. Our goal is knowing what we own and where we own it in near real time and the prior system didn't allow us to do that and finally we wanted to enhance our store communication."
A home run at last
Recognizing that the data was pointing to a needed change, Donahue, who leads a team of 250 product managers and more than 1,200 software development engineers, set his team on developing Walmart's first in-house produced driver app.
Following successful pilots at local and regional levels, Walmart rolled out its NTransit driver workflow app last June to its entire private fleet of 13,000-plus drivers. The app, loaded in a tablet that's mounted in the cab, uses telematics-focused Platform Science as its operating system.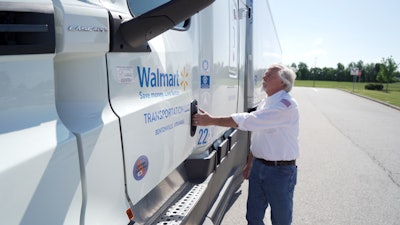 Nearly nine months in, Nixon and the vast majority of Walmart's drivers are very pleased with the results.
"Our Net Promotor Score improved to greater than 90," said Donahue who added that out of all the company's work-related tech tools, NTransit is the "highest rated product in all of Walmart."
A strong Net Promoter Score of 90 has not only translated to improved driver retention, Donahue said it's also proven to be a real plus for recruiting.
"Utilizing technology that's purpose built specifically with our driver in mind is a big selling point, especially for drivers that have come from companies that are low tech or no tech," Donahue said. "And as it turns out, the transportation industry as a whole is pretty low tech and that can be frustrating for people, especially when the tech doesn't work or it's been underinvested, so for sure that is a selling point [for recruiting]."
Prior to launching NTransit, Walmart enjoyed one of the lowest turnover rates in the nation with drivers typically leaving only to retire, Donahue said. While Walmart does not share retention rates externally, Donahue credited NTransit for "a continued reduction in our already low turnover rate."
Also following NTransit's deployment, dwell times have dropped 13%, product deliveries are more timely, communication has greatly improved and they have near real-time data on their equipment and products. By keeping a closer eye on equipment, Donahue said Walmart has seen "increased precision of the notifications sent to the stores with the estimated driver arrival time."
Walmart has plans to roll out NTransit to third-party carriers.
"NTransit is one of those microservices specifically for our private fleet drivers, and quite frankly for our external third parties as well," Donahue said. "Our intention is to build these commercial-ready products for internal use and to help remove friction from some of our third-party service providers too."
Donahue said working with Platform Science helped enable a smooth product launch and fast updates following deployment.
NTransit in action
Nixon is a big believer in NTransit. As soon as she steps foot into the cab, she's confident that her day will be efficiently planned and that she can concentrate more on driving and not having to stop and wrestle with tech issues and make phone calls to sort things out.
After logging into NTransit, her day clearly unfolds on the tablet letting her know about her moves for the day.
"It gives it to you in the order that the planner has put it in for you so there's not going to be any mistake of going to the wrong place because it's right there in your system. I love it," Nixon said. "If you do a really correct, ETD, which is your estimated time of departure to your last load, they keep you moving so you could have eight different moves on there and NTransit keeps it all in order of how you need to do it. Everything is very seamless and painless. It's very painless. You don't have to do any phone calls. I mean, it's right there."
Stores win too since they can anticipate load arrival times and effectively plan labor around truck deliveries. As Nixon nears her destination, a geofence alert goes out to a store associate to give them another heads-up on her arrival. Once Nixon is there, she presses a button on the tablet to confirm that she's at the store.
"They know you're there, but as soon as you hit 'arrive,' it's going to the person that's going to be opening that back door for you. They know you're there. And that helps us tremendously because we get paid for everything that we do and [with NTransit] we're really efficient."
Once the truck's unloaded, Nixon gets back in the truck and enters her estimated time of departure again because "you want to be accurate for when you're going to be at your very last stop so you can have another move. And then it'll say 'Return to my day' or 'Open Navigo' for your next stop. So you open Navigo and boom, right there is your next stop."
If there's anything that comes up along the way that interferes with her travel time, Nixon uses the app to communicate the issue, which helps drive efficiency and get her paid.
"If I'm out on the road and I need to attend a meeting or anything like that, I pull over to a safe place, go into my app and I can hit a plus button and add if I was at a meeting for an hour, or any Walmart-approved event or anything like that, or if I have a breakdown, I literally put in my time and I'm paid," Nixon said. "Just like that you hit send and you're paid. It's a super simple system that I would say anybody can use."
Nixon said Walmart continues to listen to drivers to make improvements. That includes an audio-based messaging system that allows drivers to stay focused on driving while keeping up with vital communications from work and home.
Being able to listen to messages has helped Nixon to keep better track of her day and avoid time lost on the road like when heading to a load that's been cancelled.
"We didn't used to be able to play our messages so if somebody puts me on a load and then they change their mind, I couldn't play that before," Nixon said. "I don't stop unless I need to use the restroom or take a quick break or something, so I might drive for six or seven hours and you can get a lot of [text and voice] messages in that timeframe and it could be a message from your family saying, 'I really need her to call me because she's not answering her phone.'"
Donahue said audio messages lower the need for cellphone use and are in-coming only "and that's intentional. We want to be very judicious about inundating our drivers with features that would potentially distract them on the road."
After having to wrestle with piles of paperwork for years, one of the features Nixon likes best about NTransit is the ability to quickly and easily record her logs without lifting a pencil.
"When I started in 1990, if you would've told me that I was going to be using a tablet to do my logs, I would've thought you were crazy," she said.
The CCJ Innovators program is brought to you by Bendix, Comdata, Freightliner Trucks, SkyBitz and Valvoline.