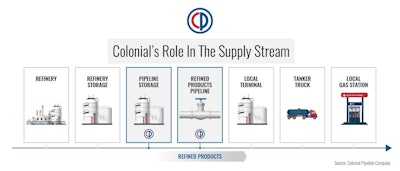 Colonial Pipeline
Trucking news and briefs for Wednesday, May 19, 2021:
Colonial Pipeline back to transporting fuel but hurdles remain
Colonial Pipeline said it is now "transporting refined products (gasoline, diesel and jet fuel) at normal levels and are fully operational," signaling that an end is within sight to a fuel supply constraint that prompted outages across multiple states.
"It will take some time for the fuel supply chain to fully catch-up," the company said. "However, at this time, the Colonial pipeline system is fully operational."
Colonial Pipeline initiated the restart of pipeline operations last Wednesday after struggling to get its operations back in order following a cyberattack May 7. However, the company's return to normal hasn't been without pains along the way.
Tuesday morning, an internal server that runs the company's nomination system experienced intermittent disruptions "due to some of the hardening efforts that are ongoing and part of our restoration process," Colonial Pipeline said. "These issues were not related to the ransomware or any type of reinfection. We are working diligently to bring our nomination system back online and will continue to keep our shippers updated. The Colonial Pipeline system continues to deliver refined products as nominated by our shippers."
Truck tonnage mostly flat in April
The American Trucking Associations' seasonally adjusted For-Hire Truck Tonnage Index decreased by 0.3% in April after increasing 2.3% in March. In April, the index totaled 114.7, compared to 115.1 in March.
"After a revised increase in March of 2.3%, the April index declined just slightly," said ATA Chief Economist Bob Costello. "The outlook is solid for tonnage going forward as the country approaches pre-pandemic levels of activity, with strong economic growth in key areas for trucking – including retail, home construction and even manufacturing. Costello also noted that the index increased year-over-year for the first time since March 2020.
"Part of the reason for the gain was due to an easy comparison with when the index fell significantly in April 2020," he said. "But I'm expecting increases, albeit smaller than April's, on a year-over-year basis going forward. Trucking's biggest challenges are not on the demand side, but on the supply side, including difficulty finding qualified drivers."
Compared with April 2020, the seasonally adjusted index jumped 6.9%, which was preceded by a 2.4% year-over-year decline in March. The not seasonally adjusted index, which represents the change in tonnage actually hauled by fleets before any seasonal adjustment, equaled 114.3 in April, 4.2% below the March level (119.3). In calculating the index, 100 represents 2015. ATA's For-Hire Truck Tonnage Index is dominated by contract freight as opposed to spot market freight.
Top 250 tanker carrier raising driver pay
A large tanker carrier recently announced a pay increase for its drivers.
Jacksonville, Florida-headquartered Florida Rock & Tank Lines (CCJ Top 250, No. 208) announced a 15% pay hike for new and current petroleum tanker truck drivers, effective April 30. The company said the pay increase is a way to thank drivers for their hard work and professionalism while also attracting new drivers for petroleum deliveries.
In addition to the pay increase, the petroleum driver position allows drivers to be home daily. Florida Rock & Tank Lines petroleum truck drivers work with local clients within a 75-mile radius, delivering three or four loads per shift. The company's drivers also earn six-month driver seniority pay, quarterly and annual safety bonuses, and a retention bonus.
Florida Rock & Tank operates a fleet of 400 tractors and 500 trailers from 21 terminals throughout the Southeast.