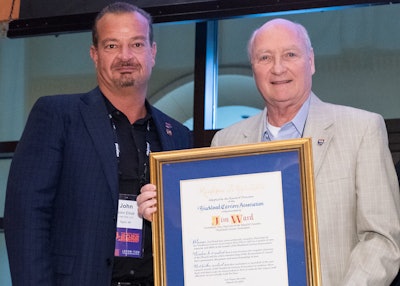 The Truckload Carriers Association (TCA) has appointed Load One (CCJ Top 250, No. 188) CEO John Elliott as its 2022-23 Chairman.
Elliott, a third-generation transportation professional, founded Load One in 2003 and under his leadership, the Taylor, Michigan-based provider of domestic and international transportation and logistics services has grown to over $135 million in annual revenue and operates over 450 power units. The company has also won numerous awards and recognition and has been twice named as a Best Fleet to Drive For. Load One was named CCJ's Innovator of the Year in 2019 for its Ultimate Advantage mobile application that pushes business intelligence directly to owner-operators with real-time load visibility across the company's entire network.
Elliott was the founder of ARC Supply Chain Solutions a global provider of third party logistic services. His extensive industry work includes serving as a TCA Officer, its First Vice Chairman, the Advocacy Advisory Committee Chairman, and as a member of TCA's Board of Directors, Financial Oversight Committee, Highway Policy Committee, and Regulatory Policy Committee.
He has also been a Vice President of the American Trucking Associations (ATA) since 2018 and was previously the President of The Expedite Association of North America (TEANA).
A holder of a degree in Aviation Management and Logistics from Eastern Michigan University, Elliott is an avid sports fan and supporter of charitable causes like Wreaths Across America and Toys for Tots.
Other TCA's officers include Immediate Past Chair: Dennis Dellinger, President & CEO, Cargo Transporters, Inc.; First Vice Chair: David Williams, Executive Vice President, Knight-Swift Transportation; Second Vice Chair: Karen Smerchek, President, Veriha Trucking, Inc.; Treasurer: John Culp, President, Maverick USA; Secretary: Jon Coca, President, Diamond Transportation System, Inc.; Association Vice President to ATA: Ed Nagle, President, Nagle Toledo, Inc.; At-Large Officer: Amber Edmondson, President, Trailiner Corporation; At-Large Officer: Pete Hill, Vice President, Hill Brothers Transportation, Inc.; At-Large Officer: Joey Hogan, President, Covenant Transport; At-Large Officer: Mark Seymour, President & CEO, Kriska Transportation Group; and At-Large Officer: Trevor Kurtz, General Manager, Brian Kurtz Trucking, LTD