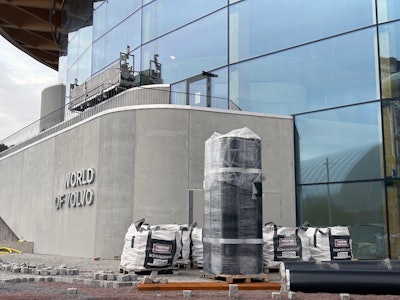 Ask any random person to name the first three things that come to mind when you say "Sweden" and they'll probably tell you meatballs, massages and Volvo. Via joint venture between its car and commercial truck and bus business, the Gothenburg, Sweden-based mobility giant seeks to cement itself as the top of mind company locally (sorry Spotify).
Currently under construction and slated for opening April 2024, the World of Volvo will be a venue that invites the public to come in and eat, meet, learn, pick up their freshly assembled vehicles, and much more.
The company seeks for its more than 236,000 square feet World of Volvo building, nestled in the center of Gothenburg's entertainment strip, to become a new Gothenburg landmark. In addition to exhibitions, shows and events, the building will also accommodate conference rooms, an event hall, a bistro and a world-class restaurant. The World of Volvo is scheduled for completion by the end of this year and will open April 14, 2024 – Volvo's 97th anniversary.
World of Volvo is also an extension of Volvo's sustainability goals, if not a showcase of them.
World of Volvo is designed around "allemansrätten" – the Swedish concept that all its citizens share a fundamental right to nature: the right to roam freely on any land (both public and private). Designed by Danish firm Henning Larsen, the building has a light and airy Scandinavian feel and uses many natural materials.
It features a living green roof and will be LEED Gold certified – a benchmark reserved for buildings that meet exacting standards for energy use, lighting, water and material use, as well as incorporate a variety of sustainable strategies.
The building's circular construction was purpose-built and designed to be free of angles so that the lack of square spaces and corners allows each shared space to be unique and open.
The building's mostly timber and glass construction was also intentional. As much as World of Volvo is about the future, heavy use of timber – a hallmark of Scandinavian construction – it is also a celebration of the company's past.
Constructed from glulam timber – multiple layers of dimensional lumber bonded by structural adhesive – the beams and columns are curved to give the inside a tree-like feel, with the center of the building being the trunk.