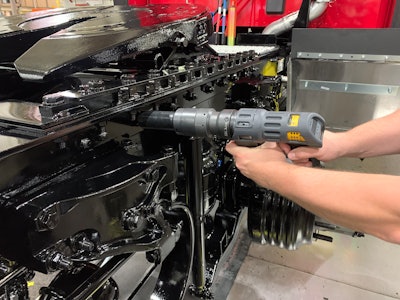 North American Class 8 net orders for April reached 34,600 units, according to preliminary data released this week by FTR. This was the best April order activity since 2018.
Orders slid 15% from March but were 30,500 units higher than a pandemic-suppressed April 2020. Class 8 orders now total 403,000 units for the previous 12 months.
Freight growth remains sturdy, and FTR vice president of commercial vehicles Don Ake said fleets anticipate needing additional trucks to expand capacity throughout 2021. The supply of new trucks remains tight due to supply chain delays, prompting carriers to order at elevated rates to secure new equipment by year's end.
"Fleets see the need for more trucks extending out the entire year," he said. "This indicates they expect freight conditions to continue along at healthy levels right into 2022."
The supply chain is currently stressed, limiting the number of new trucks and trailers that can be produced. Deliveries are sporadic for more than 20 components and parts for trailers. Truck OEMs face similar shortages, "and it may be more," Ake said. Tire manufacturers face a tightening supply of natural rubber. Some manufacturers are on steel allocations, and prices for rolled steel have nearly tripled over the last 12 months.
[Related: Used truck market 'through the roof']
Stress on new truck builds have been a boost to the used truck market, and if orders continue at this pace, Ake said it's possible that the supply chain will not be able to catch up with truck demand for months.
"Last year, the industry was faced with all the negative challenges of the pandemic. We came through that surprisingly well under the circumstances," he said. "This year we have a whole new set of challenges. It's almost as if conditions are too good. But the people in the commercial vehicle industry are working extremely hard to catch up with the tremendous demand."
Ake noted problems with the supply chain aren't getting worse, "but they're not improving a lot, [but] there has been some improvement."
The industry faced similar assembly headwinds June through October 2018 when demand for new trucks outstripped supplies to build them, but Ake noted that the difference between then and now is that the needed supplies three years ago were readily available. It simply took longer to get them to manufacturers. The lessons learned from that period have enabled truck and trailer OEMs to better manage the current situation, and "it's not nearly as bad as in 2018," he added.
"We know that by the end of the year the situation will be much better," Ake said. "Will it be gone? That's another question."