Trucking news and briefs for Thursday, April 22, 2021:
Shippers Conditions hit lowest point of pandemic in February
Market conditions for shippers in February fell two points from January to -11.8, its lowest point during the pandemic, according to FTR's Shippers Conditions Index reported in April.
The weakened shipping conditions in February were severely impacted by tight capacity and high rates, FTR said. The firm added that the "expected stabilization in fuel costs could help mitigate the pain somewhat with the SCI measure forecast to move upward to a more modest negative range by summer."
"Widespread weather-related disruptions in February weakened the conditions in the marketplace for shippers as capacity tightened and rates increased," said Todd Tranausky, vice president of rail and intermodal at FTR. "Going forward, catch up freight volumes from disrupted businesses are likely to keep capacity tight in the coming weeks and months. As things normalize, the market will improve slightly as time goes on." Last week, FTR released its Trucking Conditions report for February, which saw the Trucking Conditions Index hit its highest level in 16 months.
Volvo, Mack opening new EV training hub
Volvo Trucks and Mack Trucks will open on June 1 a new training facility in Hayward, California, that will focus on electric trucks.
According to the companies, the facility will be the West Coast hub of Volvo Trucks Academy and Mack Trucks Academy, which provide technical vehicle knowledge, dealer operations training and provides customers with exclusive access to expert training. The location will also support battery-electric training efforts for the Volvo VNR Electric and Mack LR Electric, supplying programs for company employees, technicians, dealer sales staff and aftermarket personnel, as well as owner-operators and fleet customers.
With the addition of this new facility, the Mack Trucks Academy and Volvo Trucks Academy now have six training locations throughout the U.S. and Canada. Mack operates training facilities in Allentown, Pennsylvania; Atlanta; Grand Prairie, Texas; Joliet, Illinois; and Toronto, Canada. Volvo operates training facilities in Atlanta; Grand Prairie, Texas; Hagerstown, Maryland; Joliet, Illinois; and Toronto, Canada.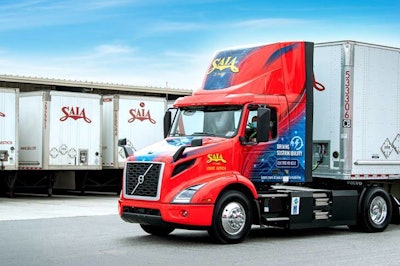 Saia takes delivery of two electric Volvos
Saia LTL Freight (CCJ Top 250, No. 21) has taken delivery of two Volvo VNR Electric trucks at its Los Angeles facility.
The VNR Electrics from Volvo Trucks North America are the first zero tailpipe emission, battery-electric Class 8 trucks to be deployed in Saia's fleet, which provides regional freight distribution services throughout Southern California, as well as logistics services across the U.S., Canada, Puerto Rico and Mexico.
"Volvo Trucks is pleased that Saia has chosen the VNR Electric as its first battery-electric model for regional freight transportation," said Peter Voorhoeve, president, Volvo Trucks North America. "We are excited to partner with their team on this important first step toward fleet electrification and look forward to delivering the quality and reliability Saia requires to scale their zero-emission fleet in the future."
To help Saia maximize vehicle uptime, TEC Equipment, Volvo Trucks' largest West Coast dealership and a Volvo LIGHTS project partner, will provide contracted maintenance and repairs through the premier Volvo Gold Contract service offering at its location in Fontana, California.