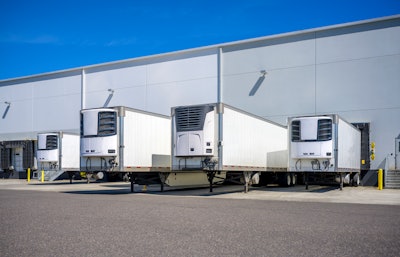 Fleets booked 14,400 new trailer orders in April, 52% lower than March but a staggering 3,600% above COVID-impacted March 2020, according to preliminary data from ACT Research. 
Year-to-date net order volume of just over 102k trailers – up 164% versus last year, according to Frank Maly, Director CV Transportation Analysis and Research at ACT Research – "indicates fleet equipment demand remains strong," he added.
OEMs continue to struggle to increase production rates with components, materials, and staffing still challenging efforts. Strong fleet commitments, Maly said, have pushed the average backlog for dry vans and reefers into early next year at recent production rates, generating headwinds to further order placement.
"Perhaps that should be better phrased as 'further order acceptance,' since some OEMs have indicated that they are not accepting orders until longer-term component and materials supplies and pricing can be determined," he said. "There also appears to have been a bit of an upturn in cancellations during April."
With backlogs extended, Maly said the next available production slots for dry vans and reefers are in Q2'22. "That challenges OEMs as they struggle to confirm component and materials pricing, as well as supply, that far into the future," he said. "Fleets, too, struggle with determining true equipment requirements that far out."