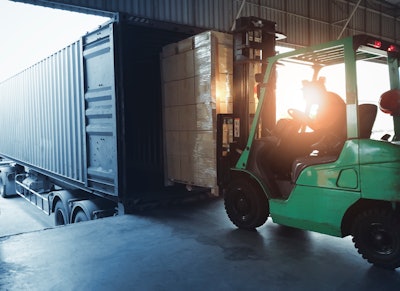 Data from Truckstop.com and FTR Transportation Intelligence for the week ending Oct. 1 showed continued small increases in spot volume with the dry van segment leading the way.
Indeed, the level of dry van load postings in the latest week was the second highest on record, surpassed only by a mid-February spike related to extreme winter weather. Total spot volume was essentially the same as the week before the Independence Day holiday, which indicates the market is outpacing historical expectations.
Supply chain disruptions have kept volume stronger than seasonal expectations. On average during the period of 2015 through 2019, load volume for week 39 of the year was about 15% lower than week 26.
Spot rates including fuel, which barely changed during the week, were about 20% higher than the same 2020 week. Although rates technically are down for the fourth straight week, they are largely holding firm and outpacing seasonal expectations.
Although the experience differed by segment, total truck postings rose by the same degree as load postings rose, so the Market Demand Index was unchanged at 164.9, which is the highest level since the end of June.
The daily high point for available loads last week was 1,149,000 and Truckstop.com noted it had four days of over one million loads posted.
Rates stayed even at $2.95/mile. Van rates saw an increase of 4 cents to $2.79 per mile. Flatbed stayed even at $2.91 and reefer decreased 7 cents per mile to $3.33.
Capacity getting even tighter heading into peak shipping season
Spot truckload rates on the DAT load board network remained well above seasonal expectations during the week from Sept. 26-Oct. 2. As we get deeper into peak shipping season, load-posting volume increased and capacity tightened.
According to DAT, dry van load post volumes increased 10% while the number of available trucks fell 5% week-over-week. As a result, the national average van load-to-truck ratio rose almost a full point from 6.2 to 7.1 loads per truck, and the 7-day national average spot van rate increased 7 cents to $2.52 per mile (excluding fuel surcharges).
The average spot van rate from Los Angeles to Chicago – a key intermodal lane – was up 5% and the number of loads moved increased by 19% compared to the previous week as shippers looked to truckload carriers to move urgent freight.
Spot reefer load volumes increased by 7% week-over-week, according to DAT, while equipment posts decreased by 4%, putting more upward pressure on rates. The national average rate increased to $2.85 per mile, which is nearly 49 cents higher than this time last year.
Several individual reefer lanes stood out. Reefer freight from Los Angeles to Las Vegas averaged just more than $6 per mile last week. Elizabeth, N.J., to Chicago averaged $2.63 a mile, which is up almost a $1 year over year. Presque Isle, Maine — a gateway market for produce in the Northeast — saw the average rate to Hunts Point in the Bronx hit $4.01 a mile last week; that's $1.71 more than this time last year and a 12-month high.