The year 2021 may go down in history as "the best freight economy in U.S. history," according to ACT Research.
But, as all carriers will know, while demand for physical goods has surged, so too has the demand for tractors, trailers and everything else needed for fleets to do their jobs correctly. When will new trucks hit the streets? When will truck parts arrive? When will the unheard of backlog of ships anchored and drifting off the coast clear?
ACT tackled these questions and more at a webinar on Tuesday. Jim Meil, ACT's principal industry analyst, summarized the broad economic outlook for trucking as "still good, but with a cloud or two forming."
On the good side of the equation, Meil pointed to the lightning-fast pace of the 2020 COVID recession and recovery, solid global jobs growth, a "sugar rush" from federal stimulus payments and programs, and strong asset and commodity prices, even as markets slightly dipped on Tuesday.
On the bad side, Meil said inflation, COVID variants and shortages of everything from steel to chassis to semiconductors as major bottlenecks.
"Right now, forecasting is about supply, not demand," said Meil.
How different freight transportation sectors are managing the strain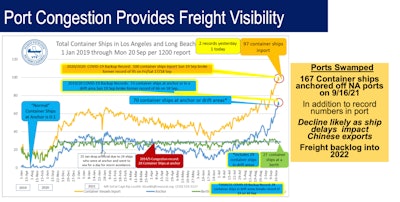 With a pent-up demand for physical goods and ocean and intermodal freight backlogged, the trucking industry has been running hot.
Tim Denoyer, ACT's vice president and senior analyst, projected the U.S. economy would grow at a whopping 6% in Q3 of 2021, but that the economy would struggle with transitory inflation.
"The message from the freight market continues to be 'stronger for longer,'" said Denoyer, indicating that this hot freight cycle could last into 2023 and beyond.
"We are pushing 170 or so container ships anchored off of North American ports at the moment, which is the longest backlog in history," he continued. "There will be a bit of an air pocket as those ships that are waiting to reload in Asia will wait longer," even into the holiday season.
Additionally, rail transport can't rescue the struggling ports. Denoyer projected the chassis shortage will continue for six to 12 months, and that it will get worse before it gets better.
So with ocean and rail freight under massive strain, trucking will corner the market.
"Ocean shipping costs are likely to continue to rise next year, but ocean and trucking are very different," said Denoyer. "With the flexibility of the highway system and improving logistics technology, empty miles for truckload carriers are actually down this year."
Meanwhile, surging retail sales, and the inventory-to-sales ratio, will mean purchasing managers continue to demand freight. Denoyer estimated retail restocking has driven upwards of 3% growth in trucking and that it would continue well into 2022.
Ultimately, Denoyer forecasted that as drivers return to the workforce, and there's pent up demand for manufactured goods, Class 8 production disruptions and labor competition will keep the trucking market tight until it rebalances some time by 2023.
Class 8 production forecasts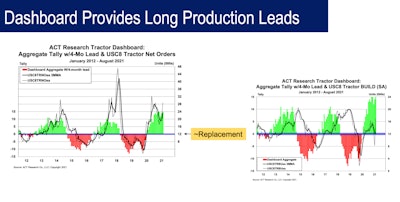 Kenny Vieth, ACT's president, sees almost exclusively positive indicators for Class 8 orders going into 2022. "One of the key indicators" to vehicle demand, according to Vieth, is the question "are truckers making money?"
"When you get a lot of positive cash to spin off, your option is to invest in your business or pay taxes, and most people choose to invest in their taxes," he continued.
But buying trucks requires more than just having cash on hand. Vieth's chart, shown above, shows a four or five month lead time traditionally in the Class 8 market between when indicators turn positive and when trucks are ordered. Now, however, the move between indicators and orders happens concurrently.
Vieth cited "massive lead times on production levels" in Class 8 builds as keeping truck deliveries from meeting demand. The demand, he said, was "as good as it gets" for tractors and vocational vehicles alike.
"Tractor orders in the past 12 months are a third higher than the best-ever year for Class 8 tractor demand in North America. For the vocational markets, they're right up there with the best ever year," he said.
At this point, the only thing constraining tractor orders appears to be order books closing. "Any weakness we see here in orders is OEM management of the backlog of orders as opposed to any softness in demand," he said, nothing that OEMs are addressing the tractor backlog before the vocational one.
Additionally, the tractor inventory to sales ratio hit a decade-long low, which has pushed used truck prices to unseen heights.
Vieth pointed to a 12-month moving average of orders and overlaid actual production numbers to display the unprecedented mismatch between supply and demand in Class 8 sales.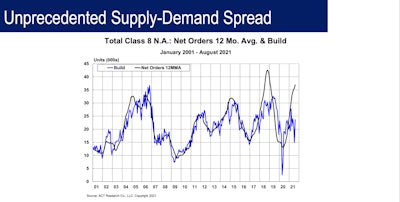 "We believe that there were something around 25,000 red tag units at the end of July, based on anecdotes," said Vieth. "The expectation is that supply of incomplete trucks should be completely built out by the end of this year" as additional supplies come in.
Work from home, school from home, COVID production shutdowns, weather events, labor issues and a number of other factors have all conspired to depress Class 8 orders in the face of surging demand.
"There is semiconductor or silicon capacity coming online," said Vieth, citing efforts from Bosch and Intel. He hopes the shortage can start fading in the second half of 2022. Vieth cited industry watchers as saying there should be in the neighborhood of a 15% increase of semiconductor capacity coming online in the market in 2021 and 2022, and that the shortfall now was around 10%.
Used truck market to remain expensive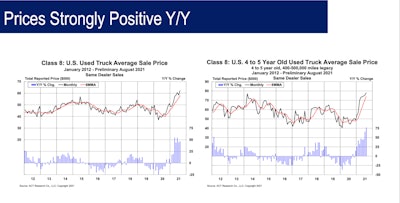 "We are seeing absolutely record levels in terms of pricing," Steve Tam, an ACT vice president said. "On the retail front, we're pushing on an average of $70,000. Keep in mind when I say average, the average age of that truck is around 7 yard and it's got around 500k miles on it."
All in, including auctions and wholesale, the average is still north of $60,000, setting another record.
Related: Used truck prices at post-Recession high with appreciation climbing
With a bare bones inventory of new and used trucks, Tam found the prices for used trucks all but "unbelievable" and said new trucks creeping into the market would start to apply downward pressure to mileage and prices, but not in the near term.
Trailer orders not fairing much better than tractor orders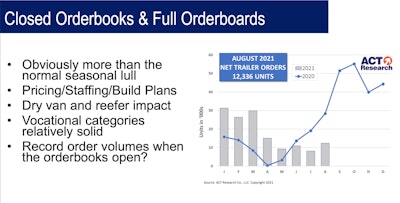 Frank Maly, ACT's director of commercial vehicle transport, reported that trailer orders had climbed to 12,300 units in August, but that much like the tractor market, orders had been depressed by OEMs. While trailer builds don't require as much steel, and sometimes can skip semiconductors, the OEMs in this sector still had to contend with labor and parts shortages.
Maly said that Wabash was expanding its facilities and OEMs could, in some cases, add more shifts to combat the backlog, but overall buyers should expect long wait times into next year.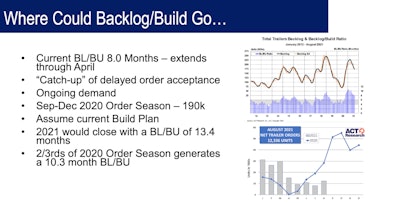 "We are at a point were we have a lot of volume and not a lot of production slots permitted for 2022, and the remainder could well be disappearing pretty quickly," he said, warning that wait times could soar to 14 months or more. "At the current production rates we're almost all spoken for for 2022."